This Smoked Turkey Chorizo Soup with Swiss Chard is a great way to use up the smoked turkey leftovers from the holidays.  Very tasty and warming on those cold and damp nights.  The addition of the chorizo adds a nice spice.  A colorful bowl full of goodness!  Excellent served with a Prosciutto de Parma Quesadillas or Quesadillas with Cheese on the side and a glass of robust red wine.
This delicious Smoked Turkey Chorizo soup recipe, comments, and photos were shared with me by Karen Calanchini, Food Stylist and Photographer, of Redding, CA.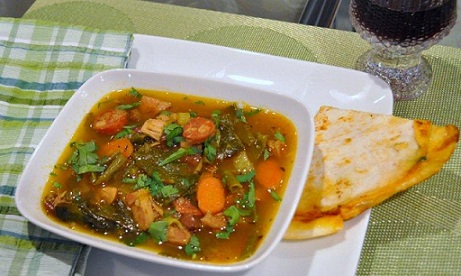 Smoked Turkey Chorizo Soup with Swiss Chard Recipe:
Keyword:
Smoked Turkey Chorizo Soup with Swiss Chard Recipe
Servings
:
10
to 12 servings
Ingredients
1/2

pound

Spanish Tolosna Beans,

cooked according to package directions and set aside*

1

bunch

Rainbow Swiss Chard**

2

links

chorizo

sausage (from a 1-pound package)***

2

tablespoons

olive oil

1

large

onions,

chopped medium dice

3

stalks

celery

with leaves (use a potato peeler to remove celery strings), medium slice

Salt

and freshly-ground pepper to taste

3 to 4

carrots,

peeled, medium slice

5

cloves

garlic,

diced

1/2

tablespoon

turmeric

8

ounces

Chinese Long Beans,

cut into bite-wise pieces

2

Hatch Chile Peppers,

blackened, skin removed, chopped medium dice****

2

teaspoons

smoked paprika

2

bay leaves

Leaves from 4 to 5

sprigs

thyme,

fresh

2

(26-ounce) containers

chicken stock

(use more if needed)*****

2 to 3

cups

turkey

(smoked or regular cooked), cut into bite-size pieces
Instructions
Cook the dried beans according to package direction or to prepare, place the dried beans into a large pot. Soak the beans at least 3 hours or overnight in warm water (this will help to soften them). In the morning drain off the water, and just cover with clean water. Bring the water just to a boil. Turn down the heat to medium low and cook until the beans are soft and just almost done, approximately 1 to 1 1/2 hours. To check if beans are done, bite into a couple of the beans. When done, remove from heat and drain; set aside.

Rinse the stems and leaves of the Swiss Chard well. Trim the stems from the Swiss Chard, discarding any that are wilted. Cut up the thick stems crosswise into slices, 1/2-inch thick. Lay the leaves on top of each other, roll up, and then chop into bite-size pieces; set aside.

Cut-Up Rainbow Swiss Chard. Cut-Up Vegetables (onions, celery, carrots, and garlic).

In a large non-stick frying pan, saute the chorizo sausage links for approximately 6 to 7 minutes. Remove from pan and drain on paper towels; set aside.

In a 6-quart Dutch oven or a large soup pot, heat the olive oil. Add onion and celery and sauté 3 to 4 minutes. Season with salt and pepper to taste. Add the carrots and garlic and sauté another 3 minutes. Add turmeric and mix well until all the vegetables are coated and are a nice yellow color.

Reduce heat to a low simmer. Add the Chinese long beans, hatch chile peppers, smoked paprika, bay leaves, Swiss chard, thyme, and chicken stock. Add the chorizo sausage and smoked turkey. Let the soup mixture simmer for approximately 1 hour or until all the vegetables are cooked.

Taste and add more salt and pepper if needed. Remove bay leaves prior to serving.
Recipe Notes
* Spanish Tolosna Beans - Also know as Alubia de Tolosa.  This a bean which is central to the Basque cuisine.  These hearty beans have a distinct coloration ranging from reddish purple to black, with white spots.  These beans are very similar to the classic black bean.  You may substitute cranberry beans, red kidney beans, azuki beans, black beans, or navy beans, if you wish.
** Swiss Chard - Also known as chard or silver beet, it is one of several leafy vegetables commonly referred to as greens.  This tall plant is a member of the beet family.  It is grown for both its tender green leaves and celery-like stalks.  Similar in flavor to spinach and beets, chard is pungent, bitter and slightly salty.  Choose bunches with dark green leaves and vividly colored stems.  Leaves and stems should feel crisp and smell fresh and earthy.
*** Cooking Chorizo sausages are sausages that are only mildly cured, usually for around 5 days less than standard chorizo.  These sausages are soft and should always come vacuum packed.  When removed from the vacuum pack the chorizos almost look pink, this is perfectly normal and they can be fried or barbequed straight away as well as being a main ingredient in a Spanish stew.  You can however hang the chorizos up in a cool dry place where their pink colouration will begin to darken, this is part of the natural process of curing, the chorizo will also begin to firm up.  Definition from http://www.orceserranohams.com/articles/spanish-chorizo.htm.
**** Any green chile pepper may be substituted in place of the Hatch chile peppers.  Just be aware of the heat these chiles produce
***** Check out Chicken Stock - Basic Chicken Stock to learn how easy it is to make your own homemade chicken stock.
Comments and Reviews