Lettuce leaves me frustrated.  Bananas are ripe for making me angry.  I buy broccoli and cauliflower but I cannot seem to get ahead.  Puns aside, produce buying drives me bonkers.  It is the one thing that stands between me, my time and my wallet.
Even when you shop ahead for a period of time, you probably still find yourself running into the store for milk, bread and produce.  When I shop for two weeks worth of groceries, I deal fine with the first two.  No one has ever explained to me why wax-carton organic milk has such a long shelf life but it does.  Wish I would have known it years ago.  I can buy it and it is good for a month or longer.  Bread, popped into the freezer upon purchase, is just fine when thawed.
But produce?  That sends me back to the store more often than I want to go.  These days, there are lots of people shopping less.  Not only does grocery shopping eat up my time, but it gobbles up my gas.  In addition, research shows that you spend more every time you visit the store.
I have heard some chatter about fresh bags for produce but had not given them a shot.  Marketed as green bags, fresh bags, and produce preservation bags, these reusable bags extend the shelf-life of your produce.  Having produce last longer saves you money by having less waste and less trips to the store.  About two months ago, I was shopping for a gift and saw a display and decided to do my own experimenting.  The result of bagging my lettuce, bananas, and cauliflower is a weekend off from shopping.  Having produce make it a full two weeks is most assuredly worth the price of the bags.
According to some Internet research, these ingenious green produce bags offer a natural way to absorb the enzyme producing gases that cause vegetables to deteriorate
Different companies are competing to sell these produce bags.  To check out different brands of these green produce bags and possibly buy some (if desired), check out What's Cooking America's Kitchen Store.
They are not meant for everything.  I got on a roll and was putting everything in the fresh bags.  About two weeks later, my husband stood in front of the fridge shaking his head.  "Honey," he said "Why in the world are these peaches still as hard as a rock?"  Oops!  Lesson learned.  Do not put the unripe produce in the bag that keeps them from ripening.
---
Tips For Organizing Produce Using Your Produce Storage Bags
How to Organize the Bags:
Although the bags are meant to be reused, they do not come in a user-friendly container.  Create your own dispenser by reusing a gallon-size box from traditional plastic bags.  Or, rummage around find one of those plastic containers with a missing lid and recycle it as storage for your produce bags.
Because these bags keep your produce fresher, they are a snap to clean up as I have not found much yucky residue like typically found in the bottom of your veggie bin.  Simply turn the bag inside out and give it soapy water wipe and a rinse.  I have found my near-by laundry rack makes a great place for drying my bags.  Or, you can easily dry them by turning them upside down over a bottle or two.
Tips for Using Produce Preservation Bags:
There is not a product that will make produce last forever.  Since to stay organized, I only want to grocery shop once every two weeks.  I have found that these new green bags allow that to happen.
If you intend to wash your produce just before cooking or eating, as is the case in these green beans, then simply store them in the produce bag until cooking.  You must always place only dry produce in the bag so washing them after storage is easiest.  Be sure your produce is not wet when you put it in the fresh bag.  If you notice moisture or condensation in your bag, make sure to wipe it out with a paper towel.
Preparing food to grab and eat, as in these cauliflower and broccoli bits prepped for snacking and salads, means taking an extra minute or two to dry them.  Wash the produce. Cut into bits.  Spread on a paper or cloth towel to dry, blotting as needed.  Once dry, store in the bag.  If any moisture accumulates in your bag, simply wipe it out.  My cut-up broccoli and cauliflower, which rot or blacken by about day eight are good for a full two weeks in the bag.
Using these fresh green bags means one more way to organize meals ahead.  Because I know the corn will remain fresh in the bag, I feel comfortable to shuck and clean it well ahead of the upcoming barbecue.
A few weeks ago, I bought Romaine lettuce, unaware that I would be taking a trip out-of-town.  Everyone knows what three-week-old lettuce looks like.  Well, my experimental lettuce in my fresh bag is still usable.
I have also used the bags on celery, which did not get limp, tomatoes that stayed fresh, and bananas, which stayed yellow longer and did not over ripen as fast.
When using a fresh bag, do not use a twist tie to tie it shut.  Simply fold the bag under and allow the weight of the produce to hold it.
To Use or Not Use the Bags?
Experimenting with the bags is certainly simple and fun.  Because they can be washed and reused, there is not any waste in experimenting.
The Not Needed –
While you can put anything into the bag, I have discovered that I really do not need to waste my bag or my time putting long shelf-life produce into one.  For me, that includes potatoes, apples, oranges, carrots and onions.
I prefer to leave tomatoes out on the counter until they are ripe and then enjoy them at the peak of flavor.
As for bananas, give it a shot and see what you think. At my house, I only found it to extend their life by a day or two. Perhaps that has to due with bananas being treated with ethylene to encourage ripening.
The Yes Use Them –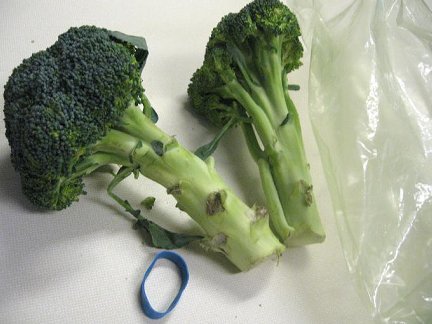 I have found that storing these items in bags extended their life: soft leaved produce such as spinach and lettuce of all kinds, green peppers, cucumber, green onions, celery, corn, green beans, squash, cauliflower, broccoli, prepared produce of all kinds and fresh herbs, such as basil, cilantro, and thyme.
To store fresh herbs or other bundles, like the pictured broccoli or a bunch of green onions, remove the rubber band.  This will help keep the produce from being as wet as it is when bound tightly together.  For herbs, such as a bunch of basil or cilantro, spread them out on a towel or paper towel to dry a bit and discard any brown or black stems.
---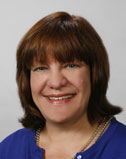 Author Lea Schneider, a columnist for What's Cooking America, is a freelance writer and organizational expert whose organizing ideas have been published in many magazines including Woman's Day, Better Homes and Gardens Kitchen and Bath Ideas, Family Circle, Parents Magazine, as well as numerous newspapers and websites.  She is a member of the Association of Food Journalists.
Getting organized is all about living simpler and making things easier.  The bonus is it often leads to saving money.  Lea Schneider's kitchen organizing columns tell you how to organize the many things that relate to kitchens, menus, meals, and special food events.
Check out all of Lea Schneider's helpful home and kitchen columns at Organizing Kitchens, Pantries, Menus and Meals.
Comments and Reviews