Stuffed Meatloaf Comfort Food Dinner Menu
This Comfort Food Dinner Menu uses simple recipes that will soothe the soul during the winter months and will comfort our culinary taste buds.  This delicious comfort food dinner menu was generously shared with my by Linda Sandberg of Newberg, Oregon.  Linda belongs to a Gourmet Dinner Group that delights in wonderful food that they share together.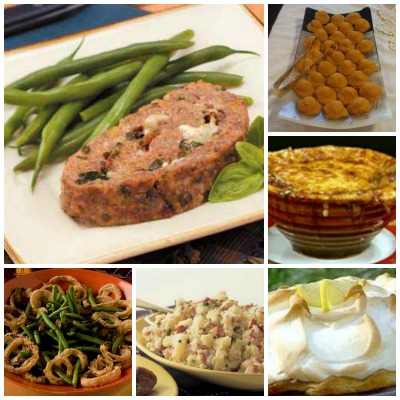 1st Course – Appetizers:
Baked Cheese Olives
Baked Cheese Olives are a favorite appetizer recipe from the 1950s.  Honestly, these cheese balls are always the hit of the party – They are so delicious!"  Biting into the small cheese biscuits and finding a little olive treasure tucked inside is so much fun!  They are crisp on the outside with a briny surprise inside.
2nd Course – Soup Course:
Onion Soup Gratinee Lyonaisse
This classic French onion soup is a hearty mixture of deeply-colored and caramelized onions, chicken stock, and layer of toasted French Baguettes. It is topped off with a thick, creamy cheese crust.
3rd Course – Main Entrees and Sides:
Prosciutto-Stuffed Meatloaf
This is a delicious and a great company meatloaf.  You can put it together early in the day and then bake it before serving.  It is a large recipe, so if you are not serving eight people, freeze the remainder or use it for sandwiches.  This meatloaf takes more time to assemble than the traditional meatloaf, but it is will worth it. My husband loves it!
Fresh Green Bean Casserole
This is not your mother's green bean casserole recipe, as this dish is made from scratch with fresh green beans and mushrooms (I would not call this a casserole).  This is a delightful updated version of the traditional green bean casserole and the use of fresh green beans is wonderful!
Smashed Potatoes
What are smashed potatoes?  They are like mashed potatoes, but the potatoes are not peeled and they are mashed only very lightly.  They are kind of a lazy way to make mashed potatoes!  Lazy way or not, they are very delicious! 
4th Course – Dessert:
Classic Lemon Meringue Pie
This Classic Lemon Meringue Pie is exceptional and is absolutely beautiful to behold!  Lemon Meringue Pie tastes like a sweet and tangy slice of heaven.

Finale:
The coffee can either be served at your dining table after clearing the dishes or in the living room.  A good way to end a meal is with a (decaf) latte.  Learn how to make a perfect cup of Coffee.
---
Dinner Party Tips:
Check out Dining Etiquette Guide – Restaurant and Dinner Party Manners and Etiquette.<
Check out all of Linda's wonderful Dinner Party Menus (includes recipes)
Appetizer Recipes – (Hors d' oeuvres, Starters, Amuse-Bouche,and Snacks)
Appetizer Hints – How many appetizers to make for your party?
Cooking With Wine – The first and most important rule: Use only wines in your cooking that you would drink.  Never, never use any wine that you would not drink!  If your do not like the taste of a wine, you will not like the dish you choose to use it in.
Food Safety Pages – Check them out!
Buffet and Party Safety
Also includes what to do if your guests have been delayed at least an hour
Golden Rules of Food Safety
IF IN DOUBT, THROW IT OUT! If you have any question in your mind about the freshness or safety of eating a food product, throw it out.  It is better to be safe than sorry!
Picnic Safety Tips
There is nothing more American than the picnic.  Picnics can take on many forms, such as the community picnic, friends and neighbors, tailgate parties, or ball games.  There is also one sure thing at every picnic-lots of good food.  The important point is to have safe and healthy food, not food that can cause food borne illness.  Always prepare and store food properly.
Summer Safety Tips
Summer is the time for barbecues and picnics.  The biggest party crasher at summer picnic and buffets is food borne bacteria.  You can't see them and you can't taste them, but you sure can feel them if illness occurs hours or days later.
Comments and Reviews