Barbecued Salmon with Herb Mayonnaise Dinner Menu
Barbecued Salmon dinner is and easy elegant dinner to serve your guests or family on a hot summer night.  This is one of my favorite dinner menu to serve during the hot summer months.  Serve this dinner on your patio or deck.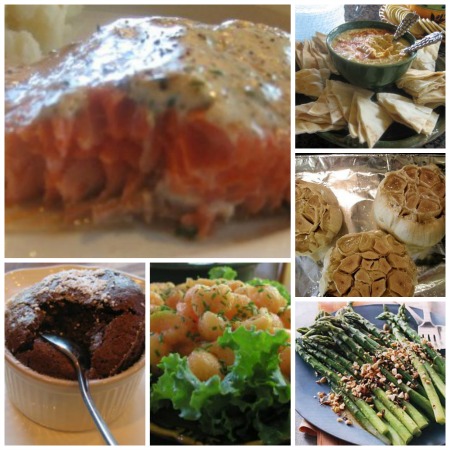 Appetizers:
Hummus with Pita Toas
Hummus, a protein-packed bean spread, is as delicious as it is healthy! Never feel guilty about enjoying hummus.

Roasted Garlic
Roasted garlic makes a delicious appetizer.  Oven roasted garlic is milder than raw garlic as garlic becomes very mellow and easy to spread after cooking.  Squeeze the pulp out of the cloves and spread on the bread of your liking or serve with bruschetta and/or tapenade.  Served with French Bread Baguette
Main Course:
Barbecued Salmon with Herb Mayonnaise
This easy Barbecued Salmon with Herb Mayonnaise recipe is so simple to make.  The mayonnaise keeps the salmon moist while barbecuing.  This mayonnaise technique is also probably the easiest thing to cook a sale with absolutely no hassle.  If spreading mayonnaise on the salmon before grilling seems old to you, remember that mayonnaise is mostly oil. 
Side Dishes:
Cantaloupe with Black Pepper, Oil and Vinegar (Insalata di Melone)
A cool and refreshing and delicious fruit salad to serve on a hot summer evening.  The black pepper and vinegar brings out the cantaloupe's sweetness.
Asparagus with Orange Dressing and Toasted Hazelnuts
This is a very easy and quick way to prepare fresh asparagus.  You will love the tangy citrus and nutty flavors of the dressing.
Dessert:
Chocolate Souffle – Cheater's Chocolate Souffle
The traditional chocolate souffle recipes scares me as they sound too complicated and can be a challenge!  This version is foolproof and very easy to make.  You can even make this souffle batter ahead of time and refrigerate until ready to bake.  The secret to this souffle is using sweetened condensed milk.  Be prepared, as this soufflé is very rich and will definitely satisfy any chocolate craving!
---
Check out all of Linda's wonderful Dinner Party Menus (includes recipes)
How To Select, Buy, and Cook Fish – Meat and Fish Internal Temperature Cooking Chart
Check out more of Linda's delicious Fish and Seafood Recipes
Click here to learn the interesting story of Pacific Salmon
Appetizer Recipes (Hors d' oeuvres, Starters, Amuse-Bouche, and Snacks)
Appetizer Hints – How many appetizers to make for your party?
Food Safety Pages – Check them out!
Buffet and Party Safety
Also includes what to do if your guests have been delayed at least an hour

Golden Rules of Food Safety
IF IN DOUBT, THROW IT OUT!  If you have any question in your mind about the freshness or safety of eating a food product, throw it out.  It is better to be safe than sorry!
Picnic Safety Tips
There is nothing more American than the picnic.  Picnics can take on many forms, such as the community picnic, friends and neighbors, tailgate parties, or ball games.  There is also one sure thing at every picnic-lots of good food. The important point is to have safe and healthy food, not food that can cause food borne illness. Always prepare and store food properly.
Summer Safety Tips
Summer is the time for barbecues and picnics.  The biggest party crasher at summer picnic and buffets is food borne bacteria.  You can not see them and you ca not taste them, but you sure can feel them if illness occurs hours or days later.
Comments and Reviews