Easy Paella Dinner Menu
Easy Paella Dinner Menu is a special dinner that is very easy to prepare and serve.  A great opportunity to include your guests in the meal preparation and combine the Aperitif course.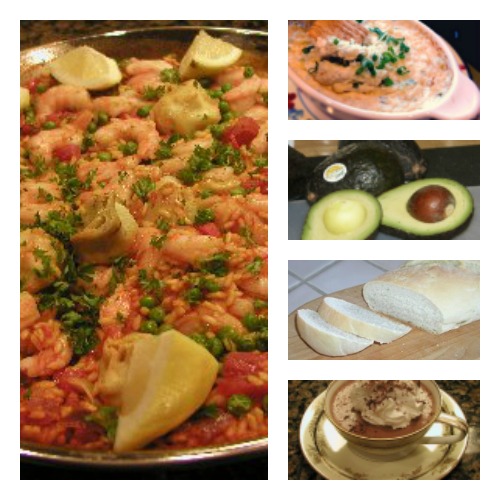 Apperitif:
We do the wine tasting in the kitchen while I prepare the Shrimp Paella.  Everyone seems to enjoy watching the paella being made.
Wine Tasting of three (3) Oregon pinot noir wines (of your choice)
1st Course:
Gourmet Crab Dip
This is my version of the popular Crab Dip that can be found all over the internet. This crab dip is always popular at gatherings I take it to.

2nd Course:
Avocado on the Half Shell
The opened avocado half makes a perfect small golden cup from which to serve any number of fillings.  Check out my interesting and delicious stuffing ideas.

3rd Course – Main Course:
Shrimp Paella
The amounts of the ingredients used in making paella are relative and it does not matter if you use more of one and less of another or chose not to use some at all.  The vital thing is the preparation of the rice so that it comes out loose.

Homemade Sourdough Bread
I have spent much time experimenting with sourdough to come up with a recipe that I feel can rival the famous San Francisco Sourdough French Bread.  I find that using my bread machine for the kneading process only, saves me a lot of time and saves my wrists.
4th Course – Dessert:
Chocolate Pots de Creme
A chocolate lover's delight!  This Chocolate Pot de Crème is a very rich and delicious dessert.  It is so easy to make.  I used to demonstrate this recipe on television shows around the United States during my first cookbook tour. Everyone loves it!

---
Reader's Comments:
Thanks for posting some great recipes!  My friends and I get together every Wednesday night (round robin style) and cook each other dinner.  Last night I whipped up the Easy Paella Dinner.  I made the crab dip and the shrimp paella.   Everything came out great.  My friends were really blown away.  Thanks again! – Ed Hoboken, NJ (3/22/07)

Check out Dinner Party Hints and tips:
Linda's wonderful Dinner Party Menus (includes recipes)
How To Select, Buy, and Cook Fish – Meat and Fish Internal Temperature Cooking Chart
Linda's delicious Fish and Seafood Recipes
Appetizer Recipes  – (Hors d' oeuvres, Starters, Amuse-Bouche,& Snacks)
Appetizer Hints – How many appetizers to make for your party?
Food Safety Pages. Check them out!
Buffet and Party Safety – Also includes what to do if your guests have been delayed at least an hour
Golden Rules of Food Safety – IF IN DOUBT, THROW IT OUT!  If you have any question in your mind about the freshness or safety of eating a food product, throw it out.  It is better to be safe than sorry!
Picnic Safety Tips – There is nothing more American than the picnic.  Picnics can take on many forms, such as the community picnic, friends and neighbors, tailgate parties, or ball games. There is also one sure thing at every picnic-lots of good food.  The important point is to have safe and healthy food, not food that can cause food borne illness. Always prepare and store food properly.
Summer Safety Tips – Summer is the time for barbecues and picnics.  The biggest party crasher at summer picnic and buffets is food borne bacteria.  You can not see them and you can not taste them, but you sure can feel them if illness occurs hours or days later.
Comments and Reviews