Tomatillo and Cucumber Gazpaco Soup recipe is a cold tomato-based raw vegetable soup.  I am a huge fan of Gazpacho soup in the summertime.  I also love Salsa Verde and cucumbers, so I decided to change up the ingredients for traditional gazpacho and make a tomatillo-cucumber version of gazpacho soup.
I pureed the tomatillo with some additional vegetables for a nice smooth texture that reminds me of the flavors of Salsa Verde.  I also diced up the rest of the vegetables to add in, since I enjoy the crunchy texture of raw vegetables.  This resulted in a very tasty and refreshing summer soup to keep cool during the hot summer evening.  Top this Tomatillo and Cucumber Gazpacho Soup with some shrimp and fresh mozzarella cheese and you have a nice light dinner.
My husband gave this gazpacho soup a big thumbs up!  Make a large batch so you can enjoy for lunch the next day or another meal.
Please check out Spanish Gazpacho Soup and Gazpacho Soup with Avocado Creme Fraiche.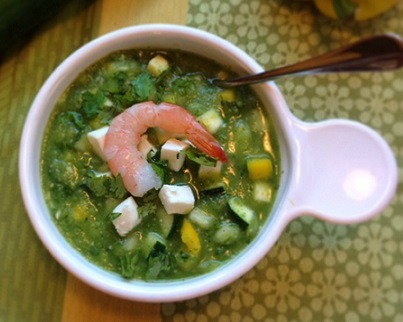 Tomatillo and Cucumber Gazpacho Soup Recipe:
Keyword:
Tomatillo and Cucumber Gazpacho Soup Recipe
Servings
:
6
to 8 servings
Ingredients
6

medium

tomatillos,

cut in half*

1/2 to 1

whole

Serrano chile pepper

(keep seeds in), sliced in half lengthwise**

2

cups

ice cubes

2

large

cucumbers,

washed, seeds scraped out (1 1/2 cucumber diced, cut remaining half in large chunks)

2/3

large

sweet onion

(1/2 diced and cut remaining half into quarters)

1

medium

zucchini squash

(1/2 diced and remaining half cut into large chunks)

4

large

garlic

cloves (2 whole and 2 finely chopped)

1/2

cup

cilantro

(1/2 finely-chopped and remaining set aside)

1/4

cup

dill weed,

fresh, chopped

1

whole yellow or orange

bell pepper,

core and seeds removed, diced

1/4

cup

basil,

fresh, chopped

1

cup

chicken stock

or vegetable broth***

Juice

of 1 lime

2

tablespoons

olive oil,

extra-virgin

1

tablespoon

Worcestershire sauce

1/2

teaspoon

salt
Instructions
When preparing gazpacho, use the Mise en Place technique and assemble and measure out all the ingredients before starting your gazpacho.


Preparing Tomatillos: Remove the husks before using as the husks are inedible. Tomatillos are very easy to cook with because they don't need to be peeled or seeded. Their texture is firm when raw, but soften when cooked. When growing your own fresh tomatillos, they are ready to harvest when the husks burst. Rinse before using as the tomatillo is covered by a sticky substance. Do not peel the green skin.

Cooking Tomatillos and Chile Pepper: In a medium-size sauce pan, add prepared tomatillos and Serrano chile pepper. Fill pan with water until level with the vegetables. Cook the tomatillos and Serrano chile pepper over medium-high heat. Let come to a boil and continue to boil for approximately 15 to 20 minutes until skin starts to separate from tomatillos. Remove from heat and drain out the hot water. Cover tomatillos and peppers with ice cubes to quickly cool down. Once cooled down and ice cubes have melted, drain off the water.

Once tomatillos and chile pepper have cooled down, in a couple of small batches in a blender, add the cooked tomatillos and serrano pepper, and the large chunks of cucumber, onion, zucchini, garlic cloves and cilantro. Blend together until pureed and smooth. Add salt to taste.

Refrigerate Puree at least 4 hours or overnight before serving. Taste for final seasoning and adjust before serving.

Prepare Gazpacho: In a large bowl, combine all the diced cucumber, onion, zucchini, garlic, cilantro, dill weed, basil, and bell pepper; toss together. Pour in the chicken broth, lime juice, olive oil, and Worcestershire sauce; stir together to combine. Refrigerate if making ahead of time.

When ready to serve, pour tomatillo puree into diced vegetable mixture and stir together until well combined. Salt to taste.

Soup can be stored in the refrigerator for up to 3 days before serving.

Serve in chilled soup bowls and add your favorite garnishment suggestions (see below).
Recipe Notes
* Tomatillos are also called "tomate verde" in Mexico (which means green tomato) and are considered a staple in Mexican cooking.  Tomatillo is a member of the nightshade family, related to tomatoes.  The fruit of the tomatillo is green and about the size of a large cherry tomato.  The inside is white and meatier than a tomato.  They grow to maturity inside of a husk.  They can range in size from about an inch in diameter to the size of apricots.  They are covered by a papery husk which may range from the pale green color of the fruit itself to a light grocery-bag brown.  The husks are inedible and should be removed before use.

** Adjust amount of chile pepper used according to your preference for spicy food.  (1/2 chile pepper adds a little spice, 1 whole chile pepper increases the heat quite a bit!)   My husband loves spicy food, so he added an entire 1/2 chile pepper to just his bowl!  The serrano (suh rah noh) chili pepper is a smaller version of the jalapeno, similar in color, but smaller, about 1 to 2 inches long, 1/2 inch wide.  They are commonly red, brown, orange, or yellow.  Moderate to very hot with an intense bite.  The serrano is said to be about 5 times hotter than the jalape.
*** Learn how easy it is to make your own homemade Chicken Stock - Basic Chicken Stock.
Comments and Reviews