If you love French Onion Soup, you will definitely adore this French Onion Fondue.  Think Onion Soup, without the soup!  The secret to this fondue are the delicious caramalized onions.
Your guests will enjoy dipping crusty slices of bread into this fondue of hot melted cheese and carmalized onions.  Better get some of this appetizer on your plate fast, because it will disappear quickly!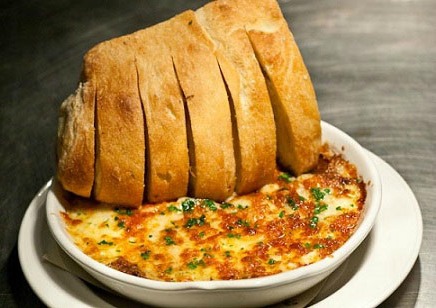 French Onion Fondue Recipe:
Keyword:
French Onion Fondue Recipe
Ingredients
1/4

cup

butter,

unsalted

5

pounds

sweet onions

(about 5 to 6 large onions)

1/4

cup

dry sherry,

Port, Madeira, or red wine

2

tablespoons

Balsamic Vinegar,

good-quality

1/4

cup

Worcestershire sauce

2

teaspoons

thyme

leaves, fresh

Coarse salt

and freshly-ground black pepper to taste

1 1/2

cups

chicken broth

(preferably homemade)

2

cups

Gruyere cheese,

coarsely-grated

1

teaspoon

flat-leaf parsley,

finely-chopped

1

baguette bread

(French or sourdough bread), sliced into 1/4-inch slices and lightly toasted
Instructions
Cut off the stem and root ends of the onions, then halve then lengthwise, and peel away the dried brown skin. Cut the onions into 1/4-inch slices. It is important to have all the onion slices roughly the same size so they cook evenly.

In a large pot over low heat, melt the butter. Add the sliced onions and cook over low heat, stirring frequently, until they are deeply browned, approximately 2 hours. I like to use my oven method for caramelizing onions as this method cuts down on the cooking and stirring time required when you caramelize on your stove top. Check out Baked Caramelized Onions.

Using a wooden spoon, stir in the dry sherry (or other alcohol), balsamic vinegar, Worcestershire sauce, thyme, and a pinch of salt and pepper. Cook over low heat until the liquid is reduced slightly, about 2 minutes. Add the chicken broth and let reduce slightly, approximately 5 minutes.

Preheat your oven broiler.

Divide the caramelized onion mixture between two shallow, heat-proof bowls or serving dishes (such as gratin dishes). Cover each with the grated Gruyere cheese, dividing it equally between the dishes.

Broil until the cheese is bubbly and golden brown, about 4 minutes. Remove from oven and garnish with the parsley. Let cool slightly before servings.

Serve with the baguette slices for dipping.
Source:  I slightly adapted this recipe from Chef Jeff Pikue of the Maude's Liquor Bar in Chicago, Illinois.  Photos from Maude's Liquor Bar.
Comments and Reviews