Shrimp with Quinoa Pesto Salad Recipe
Enjoy this lovely Shrimp with Quinoa Pesto Salad recipe to welcome the arrival of Spring.  As this dish is to be served cold, with the exception of the shrimp, every element can be prepared a day in advanced for an easy and quick assembly.  Ellen Easton has shared her shrimp with quinoa pesto salad recipe as part of her Springtime Celebration luncheon menu.
A beautiful and elegant salad arrangement like the photo demonstrates below to serve to guests or just as easily toss the ingredients together for a more casual salad and top with the cooked shrimp.  Your salad will still be just as delicious with either preparation option.
Recipe and Photos by Ellen Easton © 2017- All Rights Reserved
Check out more of Ellen Easton's Tea Travels™ articles and recipes.
Learn about the History of English High Tea and more delicious Afternoon Tea Recipes.
Shrimp with Quinoa Pesto Salad Recipe:
Shrimp with Quinoa Pesto Salad Recipe
Multiply for additional servings
Ingredients:
6 stalks Roasted Asparagus with Grated Coddled Dill Egg Yolk
1/2 cup cooked quinoa (see quinoa instructions below)
1 teaspoon pesto sauce (see pesto instructions below)
6 to 8 shrimp, cold cooked, shelled and deveined (see shrimp instructions below)
1/4 cup baby arugula
1/4 cup mixed greens
6 endive spears
1 large beet, fresh cooked or canned, diced*
6 to 8 mandarin orange sections, fresh or canned
6 grapes or cherry tomatoes, halved
1/2 sweet red bell pepper, diced, with core removed
1 stalk of hearts of palm (fresh or canned), sliced
Reva Paul's Vinaigrette dressing (see vinaigrette instructions)
* See recipe for Oven Roasted Beets
Instructions:
Quinoa:
1⁄4 cup traditional white quinoa grains
2 cups of water

In a saucepan over medium heat, place the quinoa grains and two cups of water. Bring to a boil. Cover the pot with a tight lid. Lower the heat to medium-low and let simmer for 12 minutes or until the water is absorbed. Fluff the grains with a fork. Optional seasoning may be added at this stage by stirring in 1 teaspoon of pesto sauce. Remove from the stove and serve.
Additional options: Use 1 cup of water and 1 cup of stock with preferred flavor to complement your main dish.
Pesto Sauce:
2 cups fresh basil leaves, cleaned with no stems
2 tablespoons pine nuts
2 to 3 small garlic gloves
1⁄2 cup extra virgin olive oil
1⁄2 cup grated parmesan cheese, fresh cheese if available
Place the basil, nuts and garlic in a food processor and slowly pulsate until finely minced. Slowly add in the olive oil and pulse into a smooth mixture. Add the Parmesan cheese until combined but do not over mix. May be used immediately or stored in an airtight container in the refrigerator or freezer.
Boiled Shrimp:
6 colossal or extra-large raw shrimp (with shells)
1 tablespoon apple cider vinegar
1/4 teaspoon salt
In a large pan over medium heat, place the shrimp and cover with water. Add the apple cider vinegar and 1⁄4 teaspoon salt. Note: The water may or may not boil. When the shells of the shrimp turn pink and the shrimp rise to the surface, (3 to 5 minutes or so) remove from the hot water and immerse shrimp into a bowl of ice water. This will stop the shrimp from cooking.
What is important is to keep your eye on the shrimp's color. Do not over cook or the shrimp will become rubbery in texture.
Remove the shells and devein the shrimp. Set aside.
Serves one.
Prep Time: 5 Minutes
Cooking Time: 10 minutes.
Reva Paul's Vinaigrette Dressing:
2 1/2 tablespoons granulated sugar
1 tablespoon onion powder
1 tablespoon garlic powder
1 teaspoon salt with iodine
1/2 teaspoon Pepper
1 cup red wine vinegar
1 cup extra-virgin olive oil
1/2 teaspoon dijon mustard (optional)
Place all ingredients into a jar with a tightly sealed lid. Shake until all is blended together. Transfer to a closed-top serving container of your choice. Ingredients will settle and separate.
When ready to use shake and pour. Store at room temperature.
Serves 16 - Average serving is one tablespoon per person.
Salad Assembly Steps:
Step One: Roast asparagus and coddle egg yolk. (See Roasted Asparagus with Dill Coddle Egg Yolk Recipe)
Step Two: Cook quinoa and set aside
Step Three: Prepare Pesto sauce.
Step Four: Cook shrimp and set aside.
Step Five: Wash and pat dry all fruits, vegetables and greens
Step Six: Red pepper, dice or cut into shapes
Step Seven: Slice Hearts of Palm
Step Eight: Prepare vinaigrette
Once all of the ingredients have been prepared, it is easy to assemble on a dinner size plate. It is your choice to design a pattern for the ingredients or to cut them all up and toss together for a completely mixed salad.
If arranging, place the greens on the plate. Set the pesto-quinoa in the middle on top of the greens. Forming a circle around the greens add the endive leaves filled with the sliced beets, peppers, asparagus, tomatoes and hearts of palm and sprinkle with grated coddled egg yolks. Nestle the shrimp and Mandarin oranges on top of the quinoa. Either add the vinaigrette at serving time or have the vinaigrette available for self-service at the table.
Salad Serves 1. Multiply the recipe per person.
https://whatscookingamerica.net/elleneaston/shrimpquinoapestosalad.htm
---
TEA TRAVELS™ – Wishing You Happy TEA TRAVELS!™  Tea is the luxury everyone can afford!™ and Good $ense for $uccess are the trademarked property of Ellen Easton/ RED WAGON PRESS
Ellen Easton, author of Afternoon Tea~Tips, Terms and Traditions (RED WAGON PRESS), a lifestyle and etiquette industry leader, keynote speaker and product spokesperson, is a hospitality, design, and retail consultant whose clients have included The Waldorf=Astoria, Plaza Hotels, and Bergdorf Goodman.  Easton's family traces their tea roots to the early 1800s, when ancestors first introduced tea plants from India and China to the Colony of Ceylon, thus building one of the largest and best cultivated tea estates on the island.

Purchase Ellen Easton's Tea Books:
Each 5 x 7 book is $20 postpaid Continental USA only.  Wholesale and fundraising accounts welcome.  Include name, address, zip code, and phone number for shipping.  All Sales Final. Check or MO order payable to:  RED WAGON PRESS, 45 East 89th Street, STE. 20A, New York, NY 10128-1256.  All inquires to [email protected]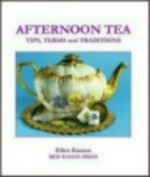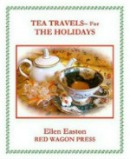 AFTERNOON TEA…TIPS, TERMS and TRADITIONS
72 pages of how to's, 27 photos, history, etiquette and FAQ about afternoon tea, serving styles and more.
TEA TRAVELS™ – FOR THE HOLIDAYS
64 pages, 21 color photos. A complete holiday menu includes 25 easy to prepare recipes; theme teas, decorating & gift ideas; invitation template and secret sources.
Comments and Reviews