Backyard Barbecue Dinner Menu and Recipes

Fire up the grill for this delicious and elegant summer Backyard Barbecue Dinner. This dinner is an easy to make and also elegant dinner to serve your guest on a hot summer night. When the weather is warm, serve this dinner on your deck or patio.
Hummus with Pita Toast
Hummus, a protein-packed bean spread, is as delicious as it is healthy! Never feel guilty about enjoying hummus. More delicious Hummus Recipes to choose from.
2nd Course – Palate Cleanser:
Provencal Orange and Honey Salad
This is a delicious and refreshing course to get your palate ready for the rest of this delicious and easy-to-make barbecue dinner.
3rd Course – Salad:
Basil Pesto Pasta
A quick and easy pasta recipe to use the fabulous seasonal vine-ripened tomatoes and fresh basil leaves. Pasta salads are ideal for summer when it is to hot to eat indoors.
4th Course – Main Entree:
Grilled Beef Kabobs
Your can either have the beef kabobs already prepared for your guests or let them prepare their own to their liking before grilling – I have done both ways. Meat on a stick is so fast to cook and so easy to make.
Served with:
French Bread Baguette
You can never go wrong with homemade bread and some good butter. You could also buy some fresh-made bread at your local bakery.

Fifth Course – Dessert:
Florida Key Lime Pie
Key limes are a variety of limes that were once grown extensively on the Florida Keys. This lime is very popular in Florida. You will love this delightful and easy-to-make Florida Key Lime Pie. Y ou can find bottled good-quality key lime juice at your local store.
Finale: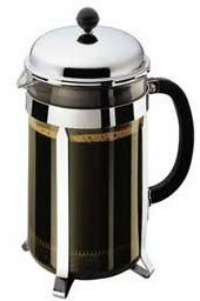 A good way to end a meal is with a (decaf) latte.
How To Use a FrenchPress
coffee press, plunger press and/or press coffee
---
Check out Dining Etiquette Guide – Restaurant and Dinner Party Manners and Etiquette.<
Check out all of Linda's wonderful Dinner Party Menus (includes recipes)
Appetizer Recipes – (Hors d' oeuvres, Starters, Amuse-Bouche,and Snacks)
Appetizer Hints – How many appetizers to make for your party?
Food Safety Pages. Check them out!
Buffet and Party Safety
Also includes what to do if your guests have been delayed at least an hour
Golden Rules of Food Safety
IF IN DOUBT, THROW IT OUT! If you have any question in your mind about the freshness or safety of eating a food product, throw it out. It is better to be safe than sorry!
Picnic Safety Tips
There is nothing more American than the picnic. Picnics can take on many forms, such as the community picnic, friends and neighbors, tailgate parties, or ball games. There is also one sure thing at every picnic-lots of good food. The important point is to have safe and healthy food, not food that can cause food borne illness. Always prepare and store food properly.
Summer Safety Tips
Summer is the time for barbecues and picnics. The biggest party crasher at summer picnic and buffets is food borne bacteria. You can not see them and you can not taste them, but you sure can feel them if illness occurs hours or days later.
Comments and Reviews