Christmas Prime Rib Dinner Menu 
Six-Course Menu and Recipes
Christmas Prime Rib Dinner beats a traditional turkey dinner any day. – I have the perfect menu for your Christmas dinner that my family enjoys every year. When I prepare a large Christmas Dinner, I serve it family style.  But after I have worked for days preparing the food, everyone sits down and seems to inhale the food in 15 minutes.  The reason I decided to serve Christmas prime rib dinner in courses, is to get my guests to slow down and enjoy the food and company of Christmas Dinner.  It worked!
First Course – Appetizers:
Appetizers and beverage served before dinner in living room. Usually the men are watching football before dinner.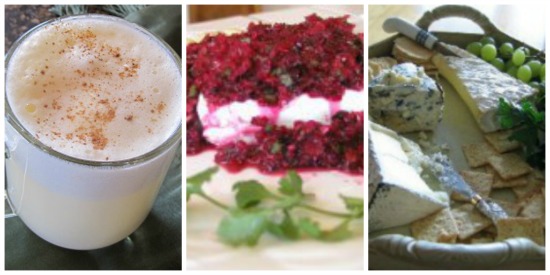 Tom and Jerrys
This is a wonderful drink recipe – it is a Christmas tradition for my family. For the children, we leave out the alcohol.
Cranberry Salsa with Cream Cheese
An interesting and delicious way to serve cranberries for Christmas dinner.
Cheese Boards – Cheese Plates – Cheese Platters
Entertaining frequently includes some kind of cheese tray, often with fruit or vegetables or meat or a combination of these foods. This is an opportunity to be creative and introduce your guests to some new cheeses. It is great fun!
Second Course: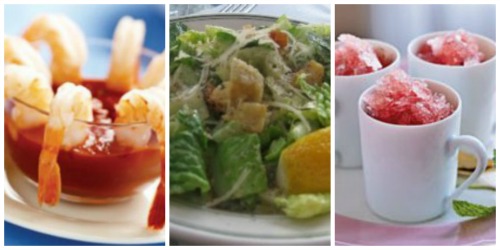 Shrimp Cocktail
What could be easier and more delightful than a shrimp cocktail to start off your meal? If it is crab season, substitute fresh crab for the shrimp in this dish.
Third Course – Salad:
Caesar Salad Recipe
My all-time favorite salad is the Caesar Salad. To many, including myself, this is the King of salads. Following is my delicious low-fat version of Caesar Salad. I promise you that your guests will never know the difference!I make this low-fat and easy-to-make version all the time. I serve this salad with Thanksgiving and Christmas dinners.
Fourth Course – Palate Cleanser:
Palate cleansers are used in the middle of a meal to remove lingering flavors from the mouth so that the next course may be enjoyed with a fresh perspective. The French also use them as an digestive to avoid heartburn and indigestion. Traditional palate cleansers have been sorbets.
Cranberry-Jalapeno Granata
This granita would be refreshing and delicious served during Christmas dinner.
Fifth Course – Main Course:
Classic Prime Rib
My family loves prime rib, and it has become our traditional Christmas dinner every years.
Side Dishes: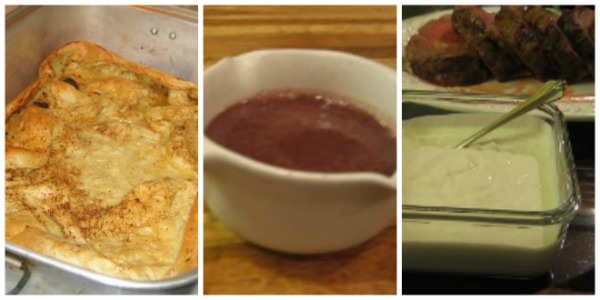 Yorkshire Pudding
A traditional English side dish to Prime Rib Roast is Yorkshire Pudding, a puffy pop-over like pastry made with the hot drippings from the cooked prime rib.
or
Beef Au Jus – Au Jus Beef Juice
Au Jus is a French term meaning "with juice." The term is used to describe the serving of meat, most often prime rib roast, surrounded in or served with a container of the natural juices that were produced as drippings while the meat was being cooked. It is not thick like a typical sauce or gravy.
and
Sour Cream Horseradish Sauce
This sauce is absolutely wonderful with prime rib.
Sixth Course – Dessert Course – Homemade Pies of your choice:
Buttermilk Pie
This wonderful Buttermilk Pie recipe was shared with me by my husband's aunt, Lila Scheer of Vancouver, WA. This is a wonderful, old-fashioned pie. Do not be put off by the buttermilk – this is a sweet and flavorful pie!
Cherry Pie
I used to have a sour cherry orchard on my property before we planted our pinot noir grape vineyard. This pie is a favorite of my husband.
Lemon Meringue Pie or Key Lime Pie
This lemon meringue pie is exceptional.
Old-Fashioned Mincemeat Pie
This has been my favorite holiday pie since I was a little girl. My grandmother, Mabel Myers, used to make her own homemade mincemeat.
Pecan Pie – Chocolate Pecan Pie – Fig Pecan Pie – Pecan Praline Pie
The only way these delicious pecan pies could be better tasting is to serve it warm and top with a big scoop of vanilla ice cream.
Traditional Pumpkin Pie or Pumpkin Chiffon Pie
The chiffon filling is very smooth and silk-like with a great flavor. People who are not a big fan of the traditional pumpkin pie, will like this version.
Christmas Cookies: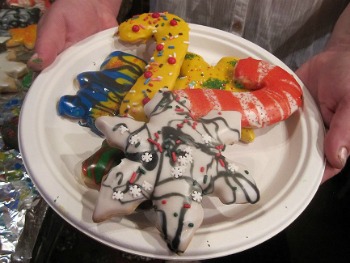 It would not be Christmas without a plate of some of your family's favorite Christmas cookies.
Spritz Cookies
Merry Christmas Cookies
Chocolate Crinkles
Christmas Cookie Recipes – Bar, drop, molded, rolled & chocolate cookies.
Secrets To Making Perfect Cookies – Everything you ever wanted to know about cookies (such as history, types of cookies, how to mail, etc.
---
Learn how to cook the Perfect Prime Rib.
Check out all of Linda's Beef Recipes using various cuts of beef.
Check out Dining Etiquette Guide – Restaurant and Dinner Party Manners and Etiquette.
Check out all of Linda's wonderful Dinner Party Menus (includes recipes)
Simple Rules for Planning a Dinner Party
Buffet & Party Safety – Organizing Your Buffet Supper
What is a Recipe? – Learn how to follow a recipe, why some recipes do not work, and about Mise en Place
Appetizer Recipes – Hors d' oeuvres, Starters, Amuse-Bouche, and Snacks
Appetizer Hints – How many appetizers to make for your party?
Food Safety Pages – Check them out!
Buffet and Party Safety – Also includes what to do if your guests have been delayed at least an hour
Golden Rules of Food Safety – IF IN DOUBT, THROW IT OUT! If you have any question in your mind about the freshness or safety of eating a food product, throw it out. It is better to be safe than sorry!
Comments and Reviews