Outdoor Smoked Salmon Dinner Menu & Recipes
This Smoked Salmon Dinner menu is the perfect meal to serve for a dinner party on a hot summer evening. Only the Hasselback Potatoes need to be prepared before the day of your dinner.  All other dish can be prepared ahead of time.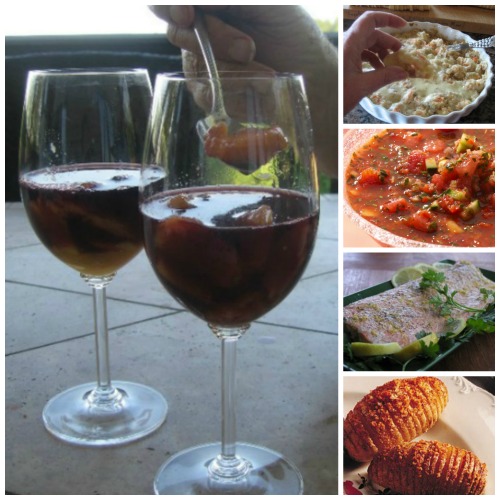 1st Course – Appetizer:
2nd Course – Soup:
Watermelon Gazpacho Soup
The delicate flavors of cucumber and watermelon go hand in hand to create a sweet-and-savory chilled soup that is perfect for the second course on a hot night.
3rd Course – Main Course and Sides:
Linda's Smoked Salmon
Every time I make this smoked salmon and serve it, I get raves!  For best results you will need a proper smoker/cooker that has a water tray for moisture.  The smoking method I use is called "hot smoking."
Hasselback Potatoes
This baked potato has a wonderful seasoned crispy crust which goes well with roasts and baked fish.  This looks like a very fancy side dish, but is actually easy to do. Definitely a unique way to serve potatoes.
Three Pepper Salad
This salad makes a beautiful presentation with the various colors of the sweet peppers.  It is so simple to make and so delicious!

4th Course Dessert:
Peches au vin – Peaches in Wine
This is a French dessert that is so easy to make and so very elegant – very gourmet!  My husband gave this a "10" rating.  Be sure and try Peches au vin when fresh peaches are in season.
---
Check out all of Linda's wonderful Dinner Party Menus (includes recipes)
Check out Dining Etiquette Guide – Restaurant and Dinner Party Manners and Etiquette.
Appetizer Recipes (Hors d' oeuvres, Starters, Amuse-Bouche, and Snacks)
Appetizer Hints – How many appetizers to make for your party?
Check out more of Linda's wonderful Poultry Recipes.Food Safety Pages. Check them out!
Buffet and Party Safety – Also includes what to do if your guests have been delayed at least an hour

Golden Rules of Food Safety – IF IN DOUBT, THROW IT OUT!  If you have any question in your mind about the freshness or safety of eating a food product, throw it out.  It is better to be safe than sorry!
Picnic Safety Tips – There is nothing more American than the picnic.  Picnics can take on many forms, such as the community picnic, friends and neighbors, tailgate parties, or ball games.  There is also one sure thing at every picnic-lots of good food. The important point is to have safe and healthy food, not food that can cause food borne illness.  Always prepare and store food properly.
Summer Safety Tips
Summer is the time for barbecues and picnics.  The biggest party crasher at summer picnic and buffets is food borne bacteria.  You can not see them and you can not taste them, but you sure can feel them if illness occurs hours or days later.
Comments and Reviews