Baked Lobster Tail Dinner Menu
Baked Lobster Tail dinner menu is a sophisticated, yet cozy, special meal to serve your family or friends.  Serving lobster tails to your dinner guests or loved ones is always a special treat.

1st Course – Appetizer:
Crostini with White Truffle Oil and Olive Paste
Served with crackers or bread.  This is so good that you will find yourself licking your fingers to catch every essence of the truffle.
2nd Course – Seafood:
Oysters Casino
Oyster lover's delight!   A very easy recipe to prepare and always a favorite with my husband
3rd Course – Salad:
Mixed greens with fresh tomatoes served with Lemon Vinaigrette.  I would served this salad on individual salad plates.
4th Course – Main Course and Side Dish:



Baked Lobster Tails
Nothing is as elegant and delicious as baked lobster tail.  Lobster tails are easier to obtain than whole lobsters and easier to prepare.  Buying a whole lobster is very expensive, and because most of the meat is found in the claws and in the tail, it is more economical to just buy a quantity of frozen lobster tails rather than the whole lobster itself.  Check out my article on How To Buy Frozen Lobster Tails.

Asparagus with Poached Eggs and Shaved Parmesan
My husband loves this dish!  He looked at me funny when I first served it to him, but he loved it!  He said I could make this anytime.
5th Course – Dessert:
Molten Chocolate Cakes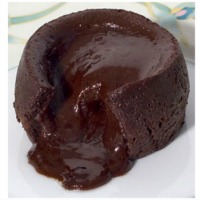 Molten Chocolate Cakes are individual rich chocolate cakes that have a pocket of delicious chocolate sauce inside.  You can serve this supremely delicious rich cake on it's own or with the warm Black Cherry Sauce.
These cakes are surprisingly easy to make, but tastes like you slaved away in the kitchen all day!
After Dinner Drink (optional):
If you have ever been to Italy, you will instantly know about Limoncello.  Lemons seem to be one of the important staples in the food of Sorrento.  The most famous product is Limoncello.  Every store or restaurant has it's unique or favorite brand of Limoncello for sale or to taste.
It is wonderful as a palate cleanser or as an after dinner drink.  Limoncello is the generic name for an Italian citrus-based lemon liqueur that is served well chilled in the summer months.  Limoncello is now considered the national drink of Italy and can be found in stores and restaurants all over Italy.
Keep your bottles of Limoncello in the freezer until ready to serve.  The ingredients are simple and few, and making a batch does not require much work, but you will need some time.  In most recipes, Limoncello must steep for (80) eighty days.
---
Check out more of Linda's great Lobster Recipes and also check out check out my article How To Buy Frozen Lobster Tails.
Check out all of Linda's wonderful Dinner Party Menus (includes recipes).
Check out Dining Etiquette Guide – Restaurant and Dinner Party Manners and Etiquette.
Check out more of Linda's wonderful Fish and Seafood Recipes.
Appetizer Recipes  (Hors d' oeuvres, Starters, Amuse-Bouche, and Snacks)
Appetizer Hints – How many appetizers to make for your party?
Food Safety Pages – Check them out!
Buffet and Party Safety
Also includes what to do if your guests have been delayed at least an hour

Golden Rules of Food Safety
IF IN DOUBT, THROW IT OUT! If you have any question in your mind about the freshness or safety of eating a food product, throw it out.  It is better to be safe than sorry!
Picnic Safety Tips
There is nothing more American than the picnic.  Picnics can take on many forms, such as the community picnic, friends and neighbors, tailgate parties, or ball games.  There is also one sure thing at every picnic-lots of good food.  The important point is to have safe and healthy food, not food that can cause food borne illness. Always prepare and store food properly.
Summer Safety Tips
Summer is the time for barbecues and picnics.  The biggest party crasher at summer picnic and buffets is food borne bacteria.  You can not see them and you can not taste them, but you sure can feel them if illness occurs hours or days later.
Comments and Reviews