Honey-Glazed Baked Ham Dinner Menu – Easter Dinner Menu and Recipes
Celebrate Easter this year with a traditional ham dinner with all the trimmings. Our Honey-Glazed Baked Ham Dinner Menu has four courses of wonderful savory and sweet dishes for the perfect Easter dinner. Most of the side dishes can be made in advance to say you time on Easter day.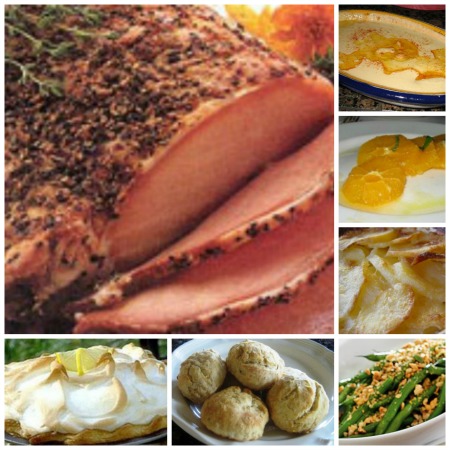 1st Course – Appetizers:
Served in the living room while last minute preparation for the dinner are being prepared.
Creamy Bagna Cauda
Serve it with chunks of crusty bread and your favorite raw vegetables.
2nd Course – Palate Cleanser:
Provencal Orange and Honey Salad
Fruit salads always taste good with a baked ham as hams are usually a little salty. Feel free to adapt and fiddle with this wonderful orange salad according to your whim.
I figure about half to three-fourths of an orange per person and then the rest can be to taste.
3rd Course – Main Entree and Side Dishes:
Baked Honey-Glazed Ham
My family thinks this Baked Honey Glazed Ham recipe is better than the commercial one. The honey glaze crackles with good flavor and taste as it has a distinctive flavor can only be achieved with a glaze. This makes a great holiday ham dinner for Easter Dinner, Thanksgiving Dinner, and also Christmas Dinner. Check out Ham 101 to learn all about cooking hams.
Asiago and Sage Scalloped Potatoes
I really like scalloped potatoes! Asiago cheese is a hard cheese with a slightly sharper flavor than Parmesan cheese. If you can not find Asiago, substitute aged Parmesan Cheese.
Green Beans with Toasted Hazelnut
Fresh green beans are another favorite vegetable that makes a great side dish.
Buttermilk Biscuits
Homemade buttermilk biscuits are so easy to make, and if you follow a few simple rules, they will always turn out fluffy and delicious. A great tasting biscuit has less to do with the ingredients and more to do with the technique.
Nothing can compare to a platter of homemade biscuit served with homemade Honey Butter!
4th Course – Dessert: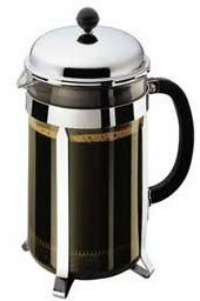 ---
Food Safety Pages. Check them out!
Buffet and Party Safety – Also includes what to do if your guests have been delayed at least an hour.
Golden Rules of Food Safety – IF IN DOUBT, THROW IT OUT! If you have any question in your mind about the freshness or safety of eating a food product, throw it out. It is better to be safe than sorry!
Picnic Safety Tips – There is nothing more American than the picnic. Picnics can take on many forms, such as the community picnic, friends and neighbors, tailgate parties, or ball games. There is also one sure thing at every picnic-lots of good food. The important point is to have safe and healthy food, not food that can cause food borne illness. Always prepare and store food properly.
Summer Safety Tips – Summer is the time for barbecues and picnics. The biggest party crasher at summer picnic and buffets is food borne bacteria. You can not see them and you can not taste them, but you sure can feel them if illness occurs hours or days later.
Comments and Reviews