Strawberry recipe collection is filled with my favorite early summer berry recipes. Find everything from jam to strawberry shortcake.
What is the first thought that comes to your mind, when you think of strawberries?  Is it mouth-watering strawberries mixed with fresh cream?  There is nothing that says "Hello Summer" quite like eating a juicy vine-ripened strawberry that has been ripened to perfection in the early summer sunshine.
Are strawberries good for?
Good question!  YES, strawberries are not only sweet and juicy, they are packed with antioxidant and phytonutrient content, such as  potassium and vitamin C, making strawberries a nutritious fruit for mind and body.
Learn all about Strawberry Hints, Tips, and Information.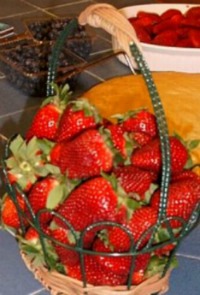 Amaretto Strawberries
What could be simpler than this recipe?  Quick and easy-to-make dessert.
Blended Fresh Strawberry Margarita
So refreshing and so delicious!
Boccone Dolce (Sweet Mouthful)
This is a classic northern Italian dessert. The combination of strawberries and chocolate in a meringue is enough to send you right out of this world!
Chilled Strawberry-Mint Soup
This soup is not only delicious, but the color is lovely.
Chocolate Strawberries
What could be better than luscious chocolate strawberries? Chocolate strawberries are beautiful to look at and wonderful to eat! During strawberry season, I like to serve chocolate strawberries as a finale to dinner, as decorations for cakes, and at my family's annual Mother's Day High Tea. Try serving chocolate strawberries with champagne or your favorite red wine. Since we grow pinot noir grapes, I naturally like to serve pinot noir wine.
Cucumber Strawberry Salad
This Cucumber and Strawberry salad is as delicious as it is beautiful! Surprise you family and friends with this delightful and very easy-to-make summer salad.
Fresh Strawberry Granita
Granitas are as cool and delicious as ice cream, but they're much light, more refreshing, and a lot easier to make.
Fresh Strawberry Sorbet is a must to make during your local strawberry season!  The color of this Fresh Strawberry Sorbet is beautiful and the flavor is a wonderful intense strawberry!
Fruit Pizza
A beautiful dessert for brunch or any special occasion.  It will not keep well, so plan on using it up.  You may also use your own sugar cookie recipe in place of the refrigerated cookie dough.
Fruity Nachos
Want a departure from the everyday?  These unusual nachos are a refreshing break from the traditional hearty flavors of beans, cheese, and jalapeno.  You can use almost any firm fruit, alone or in combination.
Strawberry Rhubarb Crisp – Strawberry Rhubarb Pie
Combine the first strawberries of late spring and the last of the seasonal rhubarb to enjoy this wonderful sweet and tart flavor combination.  Strawberry Rhubarb can be baked two different ways – as a pie or a crisp.  For those that would like a dessert requiring less prep time or if you're not yet confident in your pie crust making skills – baking as a crisp is the way to go!
Simply Strawberries
A very simple and elegant way to serve strawberries. It will remind you of cheesecake.  Everyone that I serve this very easy-to-make strawberry dish, to goes "wild" over it.
During strawberry season, this is one of my "must make" strawberry recipes, especially using the local strawberries.
Strawberry Agua Fresca
Enjoy the essence of the sweet summer strawberries in this refreshing drink.  Fresh fruit drinks are very popular all over Mexico and are served from large barrel-shaped glass containers.
Strawberry Coconut Smoothie
Smoothies from the article called Blending vs. Juicing. Is it better to juice or blend?  There is always a lot of discussion among my friends about whether they should juice fresh produce or blend whole foods.
Strawberry Custard Tart
Don't let a strawberry season go by without making this beautiful and delicious strawberry tart.
Strawberries in Lemon-Lavender Syrup
Recipe by Chef Revsin of Driscoll Strawberry Associates, Inc.
Strawberries Pernod
This is an extremely simple dessert to make!  Especially great for your dinner party.  Your guests will be delighted.
Strawberries with Champagne and Roses
A very elegant way to serve strawberries! Try this for your next brunch.
Strawberry Cake
A strawberry cake is perfect for any occasion.  When fresh strawberries are in season, be sure and make this cake.  Since no baking is required for this cake, even the kids can prepare it easily.  Wouldn't this make a great Mother's Day cake for the kids to make?
Strawberry-Lime Crepes
This wonderful crepe recipe is from Debbie Reynolds of Rocky Mountain Lodge & Cabins of Cascade, Colorado.
Strawberry Shortcake
Nothing could be a more typical, totally American, dessert than strawberry shortcake.  Plus what could taste better during your local strawberry season?
Stuffed Roasted Strawberries
This is an inside-out version of chocolate dipped strawberries. Roasting the fruit brings out even more flavor and juiciness.  You'll never settle for plain old dipped berries again!  You can use any type of chocolate (milk, white, or semi-sweet), but remember bittersweet chocolate has less sugar and is lower in carbs.
Zabaglione with Fresh Berries
Zabaglione is a famous Italian dessert that is usually served with sliced fresh fruit or berries.  The French refer to this as Sabayon and it is used as a dessert or a sauce.  It is light and refreshing and perfect as warm weather dessert.
Fresh Fruit Salad
This is my favorite fresh fruit salad. My mother-in-law, Gertrude Zemp, taught me to make this when I was a young bride.  It is very refreshing and also low in calories. I use whatever fresh fruit is in season when making this salad.  The banana dressing is very light and compliments the fruit.  You will never want to make a "yucky" canned fruit salad again!
Comments and Reviews