Dungeness Crab – Lump Crab – King Crab Recipes
Best crab recipes on the internet for all your cooking needs.  Rich and decadent crab is a favorite around the world and is wonderful in dips, salads, and more.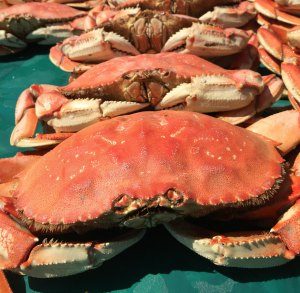 Artichoke Hearts with Crab
This is a great starter appetizer for your dinner part.
Baked Deviled Crab (Crabmeat Dressing)
From the recipe files of Robert Hammond, chef and former owner of The Kitchen at Honeyman Creek Farm in Warren, Oregon.
Crab Cakes with Ginger-Citrus Vinaigrette
Another great crab cake recipe that is easy-to-make and so delicious.
Crab Cakes with Green Onion Sauce
You won't believe how wonderful these crab cakes are.  My husband thinks that they could win an award.  You be the judge!
Crab Cakes with Orange-Dill Sauce
What could be better than a low fat and low calorie delicious crab cake?
Crab Cakes with Tomato Corn Salad and Aioli Fusion Sauce
Make this during your local crab season and use the best fresh ingredients you can find.  This dish is easy to put together, is loaded with flavor and color, and company worthy.
Crab Louie Salad – Crab Louis Salad
Both spellings of the salad are used on restaurant menus, but it is usually pronounced "LOO-ey".  This famous west coast salad is also called "King of Salads," and is sometimes written as Crab Louis Salad.  Today there are as many versions of this famous salad as there are cooks.  To people of the west coast, the ingredients are very simple and exact: crisp iceberg lettuce, generous serving of fresh Dungeness crabmeat, fresh tomato, and hard-cooked egg wedges with Crab Louie Dressing.
Dungeness Crab Cakes
These crab cakes are so simple to make!  These also are great served as the starter course of your meal.
Dungeness Crab and Cabbage Salad
The recipe is by Chef Kevin Simonson from the Domaine Carneros Winery in Northern California.
Dungeness Crab and Tomato Napoleon
A very simple summer and delicious summer treat using crab meat and those wonderful fresh vine-ripened tomatoes.  This could either be served as a first course or a salad course. However you serve it, it will definitely impress your family or guests.
Easy Street Crab Dip
This is fantastic looking and tastes wonderful.  Your guest will rave about this one.  This recipe can be made up to two days in advance.
Gourmet Crab Dip
This is my version of the popular Crab Dip that can be found all over the internet.  This crab dip can be served either cold or hot.
Hot Crab Appetizer
This delicious, addictive crab dip will have your family and friends begging for more.
King Crab Legs – Taverna Opa's Steamed King Crab Legs
Learn how to cook King crab legs by baking, steaming, microwaving, etc.  Also check out this easy-to-make and outstanding flambeed King Crab Legs.
Northwest Mini Crab Cakes with Orange Sauce
Fresh and Light Crab Cakes are not only delectable but easy to make.  These wonderful crab cakes make an ideal starter course.  These crab cakes were light and airy and every bit as good as any crab cakes we've ever tasted.
Oven-Roasted Dungeness Crab
The buttery sauce that coats the crabmeat and the shells is part of the pleasure of this dish.  To really enjoy it dispense with the utensils and just eat the crab with your hands.
San Francisco Cioppino
Cioppino (pronounced chuh-PEE-no) is considered San Francisco's signature dish, and no trip to this West Coast city would be complete without a bowlful.  Because of the versatility of the ingredients, there are numerous recipes for it.  Cioppino can be prepared with a dozen kinds of fish and shellfish It all depends on the day's catch of your personal choice.
Seafood Gumbo – New Orleans Style
Leo Neil of Crosby, TX generously shared this fantastic New Orleans Gumbo recipe with me.  Leo says, "I'm very passionate about New Orleans traditional cooking and it's a shame to what culinary level the mighty gumbo has sunk. I always try gumbo in restaurants and I've been to some of the best, but they NEVER get it right."
She Crab Soup
Charleston, South Carolina is known for their elegant She Crab Soup.  A cross between a bisque and a chowder, made with their famous blue crab meat.  This soup/bisque/chowder is considered the city's signature dish.  Local restaurants offer their own version, and in many Charleston restaurants, the soup du jour is often She Crab Soup.
Snow Peas Stuffed with Crab
Recipe from The Dinah Shore Cookbook, by Dinah Shore.  This is a very pretty finger food that is also delicious!
Stuffed Artichokes with Crab Salad
This is a very easy meal to prepare and very delicious!  This is one of the meals that I like to serve on a hot summer evening.
Tomato-Basil Crab Bisque
I adapted this recipe from one that was published in the August 2003 Bon Appetit Magazine.  Recipe originally from the Spartina Grill, Hilton Head Island, SC.
Truffle Custards with Crab and Caviar
A wonderful delicate truffle custard to use as a first course or appetizer for your dinner party.
Comments and Reviews