Fettuccine Piccate Dinner Menu and Recipes
This unexpected company dinner menu is for that last minute dinner when unexpected company is still there at dinner time.  Do you not have time to go grocery shopping – no problem.  This is a very easy-to-make Fettuccine Piccate dinner using supplies out of your pantry.  It does not take a magician to turn out a good meal at the last minute!

Gourmet Hot Crab Dip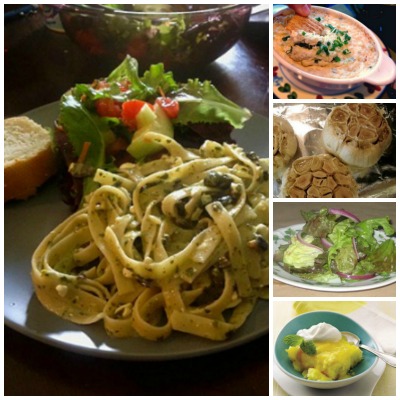 This is my version of the popular Crab Dip that can be found all over the internet.  This crab dip is always popular at gatherings I take it to.
Roasted Garlic
Roasted garlic is a delicious appetizer.  Squeeze the pulp out of the cloves and spread on the bread of your liking or serve with bruschetta and/or olive tapenade.  Roasted garlic is milder than raw garlic.  Garlic becomes very mellow and easy to spread after cooking.
Mixed Green Salad with Tarragon Vinaigrette
This delightful salad works well with any combination of greens that you have in your refrigerator. It is quick and easy to pull together.
Fettuccine Piccate
You will be pleasantly surprised at the wonderful taste of this Fettuccine Piccata.  I have used this recipe on several television shows on my book tours.  It smells so great that the studio crew comes running for a taste!   Sometimes I throw in some chicken or shrimp to jazz it up.
Lemon Pudding Cake
Cake on top and pudding/custard on the bottom – pudding cakes are basically two desserts in one. Their beauty lies in their utter simplicity as they are so easy to make that even a novice baker will have no problems.  In the heat of the oven, a single batter magically transforms into two distinct layers.  

---
Check out all of Linda's wonderful Dinner Party Menus (includes recipes)
Appetizer Recipes
(Hors d' oeuvres, Starters, Amuse-Bouche,& Snacks)
Appetizer Hints
How many appetizers to make for your party?
Check out more Pasta, Rice, & Main Dish Recipes
Food Safety Pages -Check them out!

Buffet and Party Safety
Also includes what to do if your guests have been delayed at least an hour

Golden Rules of Food Safety
IF IN DOUBT, THROW IT OUT!  If you have any question in your mind about the freshness or safety of eating a food product, throw it out.  It is better to be safe than sorry!
Picnic Safety Tips
There is nothing more American than the picnic.  Picnics can take on many forms, such as the community picnic, friends and neighbors, tailgate parties, or ball games.  There is also one sure thing at every picnic-lots of good food.  The important point is to have safe and healthy food, not food that can cause food borne illness.  Always prepare and store food properly.
Summer Safety Tips
Summer is the time for barbecues and picnics.  The biggest party crasher at summer picnic and buffets is food borne bacteria.  You can not see them and you can not taste them, but you sure can feel them if illness occurs hours or days later.
Comments and Reviews