Irish Sausage Rolls are a fun and delicious appetizer to serve your family and friends for Saint Patrick's Day.  In Ireland, sausage rolls are very popular and are served in pubs, home parties, and purchased ready made at bakeries.
Irish sausages, like American sausages, are made with ground pork but with a whole different flavor profile. American sausages are often strong and spicy, whereas Irish sausages are blended with a mix of herbs that bring on a subtle and mild flavor, a distinct taste found across the U.K.
I was introduced to Irish Sausage Rolls by a family friend, Rhonda Mulholland. This is and easy-to-make recipe where you can use pre-made puff pastry as a time saver.  Make the rolls larger and enjoy them for a meal.  Even the younger picky eaters will enjoy these sausage rolls!
More outstanding Irish recipes to serve your family and friends:  Guinness Beef Stew, Irish Lamb Stew, Corned Beef and Cabbage, Corned Beef Bubble and Squeak, Dublin Coddle, Irish Soda Bread, and Chocolate Guinness Cake.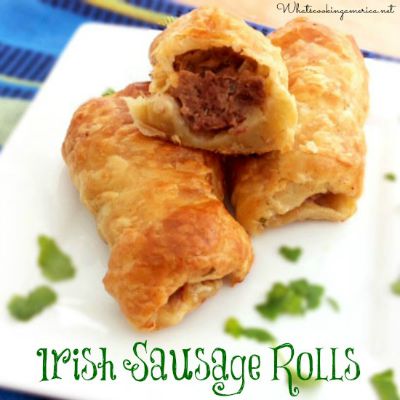 –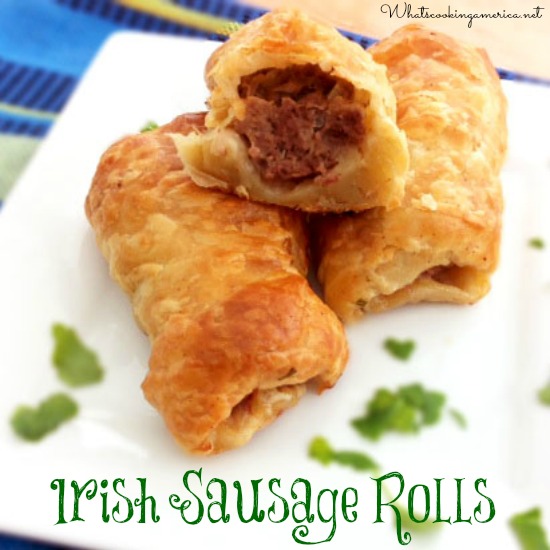 Irish Sausage Rolls Recipe:
Keyword:
Irish Sausage Rolls Recipe
Ingredients
1/2

teaspoon

salt 

1/2

teaspoon

thyme,

dried

1/2

teaspoon

oregano,

dried

1/2

teaspoon

marjoram,

dried

1/2

teaspoon

sage,

dried

1/2

teaspoon

parsley,

dried

1/4

teaspoon

black pepper

1

pound

pork,

ground

1/2

onion,

finely chopped

2

cloves

garlic,

chopped

1

cup

bread crumbs

(about 3 slices of bread, chopped small and crumbled)*

1

sheet

puff pastry

(half of 17-ounce package), thawed if frozen

1/4

cup all-purpose

flour

1/2

cup

milk
Instructions
Preheat oven to 350 degrees.

Line baking sheets with parchment paper.Important – must use parchment paper to absorb the grease from sausage while cooking. Otherwise you will have grease all over the pan and your rolls will end up very greasy. I learned the hard way on this!

Using a coffee grinder, mortar and pestle, or seal in a plastic bag and crush with a heavy pan until all of the dried spices and seasonings are the consistency of dried powder.

In medium-sized bowl, mix together ground pork, onion, garlic, ground spice mixture, and bread crumbs until everything is well combined. For best flavor, cover bowl of sausage mix with plastic wrap and let sit refrigerated overnight to allow flavors to meld together.

Gently unfold the pastry sheet and place on a lightly-floured surface. Cut pastry sheet, lengthwise, into 3 strips at the seams. Use a rolling pin, roll each strip into 10x4 inch rectangle.

Shape 1/3 of pork mixture into a 10-inch long sausage-shaped log. Next place the sausage log along the top edge of one of the rolled pastry rectangles. Brush the lower half of the exposed pastry with milk to help the pastry stick when rolling. Roll pastry down around the sausage and press to seal the pastry ends together. Cut each roll crosswise into 4 pieces. Place sausage roll, seam side down, on the parchment-lined baking sheet(leave 1 to 2 inches between each roll). Repeat process with remaining pork mixture and puff pastry.

Optional decorative touch: Using a sharp knife, cut a slash through the pastry in each sausage roll in top of bottom half of roll (should be two slashes on each roll).

Brush the top of each sausage roll with milk (this will give nice golden brown color when baking).

Bake approximately 25 minutes or until pastry is golden brown and puffy and the internal temperature registers 160 degrees F. on your instant-read meat thermometer.

Remove from oven and place sausage rolls on wire rack to cool slightly. Place a paper towel over the top of the rolls to absorb any extra grease.

Serve warm and enjoy by themselves or with dips of your choice.

These sausage rolls can be frozen and be reheated before serving.
Recipe Notes
* Using a food processor would work quickly for crumbling into breadcrumbs.

I get many readers asking what cooking/meat thermometer that I prefer and use in my cooking and baking. I, personally, use the Thermapen Thermometer. Originally designed for professional use, the Super-Fast Thermapen Thermometer is used by chefs all over the world.  I only endorse a few products, on my web site, that I like and use regularly.
You can learn more or buy yours at: Super-Fast Thermapen Thermometer.
Sponsored Content
Additional St. Patrick's Day Recipes:

Irish Colcannon Potatoes – Mashed Potato with Kale and Bacon
Colcannon is true Irish soul food. The dish consists of mashing together buttery mashed potatoes with cooked kale or cabbage and leeks for flavoring.

Corned Beef Bubble and Squeak
Bubble and Squeak is a traditional Monday lunch in England to take the leftover potatoes and vegetables from Sunday supper and fry it up to enjoy for lunch the next day. The odd name is said to come from the noises made while cooking it.
Guinness Beef Stew – Irish Beef Stew
Most every pub you visit in Ireland will offer Beef and Guinness Stew on the menu. Stewing the beef in Guinness stout beer tenderizes the beef and adds a robust, malty flavor to the stew.
Irish Lamb Stew
Traditionally Irish lamb stew is cooked with lamb meat (neck bones or shanks) and root vegetables such as potatoes and onions with water. The stew is cooked over low heat until the meat is fall apart tender.
Dublin Coddle
A favorite Dublin dish of potatoes, onions, bacon rashers and pork sausages slow cooked together for the ultimate comfort meal.
Irish Soda Bread
Here's a wonderful traditional Irish Soda bread recipe that can be found in homes and markets all over Ireland. In the United States, Irish Soda bread is popular to accompany Corned Beef and Cabbage when celebrating Saint Patrick's Day.
Corned Beef and Cabbage
My family and I look forward to enjoying corned beef and cabbage dinner as part of celebrating Saint Patrick's Day every year. This is a great no-fuss meal to serve on Saint Patrick's Day or any day that you desire.
Irish Sausage Rolls
In Ireland, sausage rolls are very popular. You can find them served at pubs, at home parties, and can even be purchased ready made at bakeries.
Guinness Chocolate Cake
A moist rich chocolate cake with wonderful malty notes from the addition of Guinness stout beer.
Guinness Black Bottomed Cupcakes
Enjoy this twist on traditional black bottom cupcakes using Guinness Chocolate Cake and an Irish cream cheese filling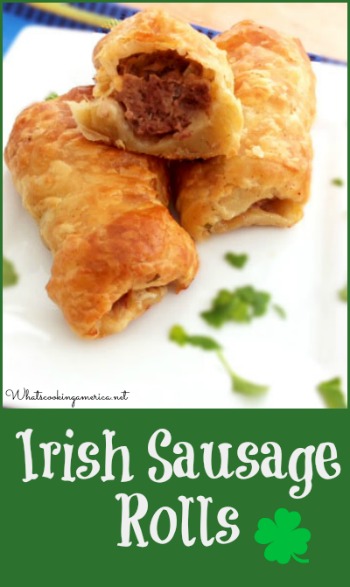 Three Irish Sausage Rolls with flaky crusts on a cutting board.
Comments and Reviews