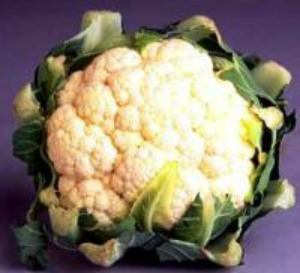 Cauliflower Casserole
Another delicious easy-to-make cauliflower recipe that is sure to please your family.  Great served with your steak dinner.
Cauliflower Cheese Pie
This is an absolutely wonderful pie.  The wonderful smell of the potato crust as it bakes will set your taste buds alive.
Cauliflower Crostini
When I first saw this recipe using cauliflower, I though "How interesting.  I must try this one."  Naturally I can't leave any recipe alone and had to make a few changes.  You and your guests will definitely love this unusual appetizer.
Cauliflower Gratin with Gruyere and Hazelnuts
This recipe is from an article in the Oregonian Fooday on December 6, 2005 by Betty Rosbottom.  Betty says, "The gratin was the sleeper hit.  If you're expecting overnight guests during the holidays, you might just find this make-ahead dish a tempting addition to your menus."
Cauliflower Pizza Crust – Gluten Free Pizza Crust
No need to feel guilty about eating pizza! What makes this pizza so unique is that the crust is made out of cauliflower.  As I don't know who came up with the idea of using cauliflower to make a pizza crust – I thank you!
Cauliflower Rice
Wait until you try this amazing cauliflower rice recipe!  It is surprisingly delicious, very easy-to-make, low calorie, and gluten free.  It is a great rice substitution.  It can be eaten as a side alone or as a base for dishes like stir-fries or curries.  My husband was actually pleasantly surprised how delicious it is.
Cauliflower Salad
I adapted this recipe from the cookbook called Tapas, The Little Dishes of Spain, by Penelope Casas.  A very refreshing, and very Spanish, way to prepare cauliflower.  A favorite salad served in small amounts at Tapa Bars in Spain.
Cheesy Baked Cauliflower
This is a favorite at our house!
Cream of Cauliflower Soup with Hazelnut Butter
This very unusual soup tastes fantastic.  Excellent for a dinner party to give your meal a spectacular start.
Deviled Cauliflower (low fat)
I adapted this wonderful tasting recipe from the cookbook called The Mayo Clinic Williams-Sonoma Cookbook, by John Phillip Carroll, 1998.  The recipe is described as, "The word "deviled" indicates that a dish includes mustard and spices.  This flavorful, low fat mustard-based topping adds a devilish twist tosteamed and then baked cauliflower.  Serve it as a complement to pasta or grain dishes. T ry the same topping and technique with other cruciferous vegetables."
Pasta with Roasted Cauliflower and Anchovies
This is a delicious Italian pasta recipe featuring roasted cauliflower and anchovies.  This is my version of this popular Italian recipe.  If you love cauliflower as it do, you will absolutely love this pasta dish.  Even if you're not an anchovy lover, you probably will not mind them, as once fried, the anchovies melt into the background and provide the dish with rich and savory undertones.  This pasta is so good that you'll want to lick the bowl!
Roasted Cauliflower (low fat)
This method of preparing cauliflower is very simple and extremely delicious.  Roasting the cauliflower intensifies the flavor and gives it a nutty taste.
Roasted Cauliflower
This method of preparing cauliflower is very simple and extremely delicious.  Because of the quick cooking in a very hot and dry oven, the cauliflower florets are not at all mushy.  They had softened slightly but still retained a very pleasing crunch as roasting the cauliflower intensifies the flavor and gives it a nutty taste.  This is my favorite way of serving cauliflower.  If you have never roasted cauliflower, try it now!
Roasted Cauliflower Steaks
This method of preparing cauliflower is very simple and wonderfully delicious!  Once you've taste roasted cauliflower steaks, you will never go back to boiling cauliflower.  This is a very elegant way to serve cauliflower.  This makes an amazing first course, side dish, or even a main course for dinner.  Vegetarians will also love this dish.
Whole Roasted Cauliflower with Moroccan Spices
I loved the warm Moroccan spice blend and the aroma coming from the cauliflower as it marinated – was alluring.  The flavor did not disappoint me.
Spiced Caramelized Cauliflower
I adapted this recipe from Food & Wine magazine, November 2002.
Spicy Cauliflower
This recipe is from the Pizzeria Delfina restaurant in San Francisco.  This cauliflower is a combination of chewy, crunchy, soft, spicy, mild, and briny all at once.  The end result is excellent!
Steamed Cheesy Whole Cauliflower
This is an old comfort food recipe that my mother always made, and I still do.
Comments and Reviews