Holiday brunch menu for those family gatherings that start early in the day.  This menu and recipe collection are filled with family favorites for a satisfying and lingering holiday brunch.  Beautiful, unique, sweet and savory recipes that are sure to please everyone at the table.  Enjoying family and friends during the holidays can start with this holiday brunch menu.
Fruit Dish Ideas:
Grapefruit Ambrosia
This takes grapefruit to a new "height!"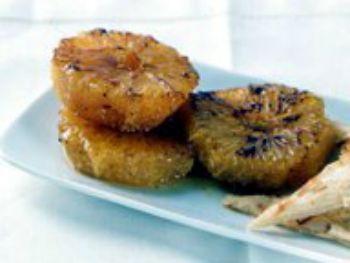 Apple Turnovers – Mom's Apple Turnovers
This is my Mother's, Dorothy Hagerman, Apple Turnover recipe.  It is so good!  When Mom made these delicious turnovers, our family would make a meal of them.  Maybe not a well-balanced meal, but so good!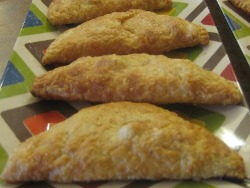 How about one of the following delicious fresh strawberry dishes:
Strawberries with Champagne and Roses
Main Dish Ideas: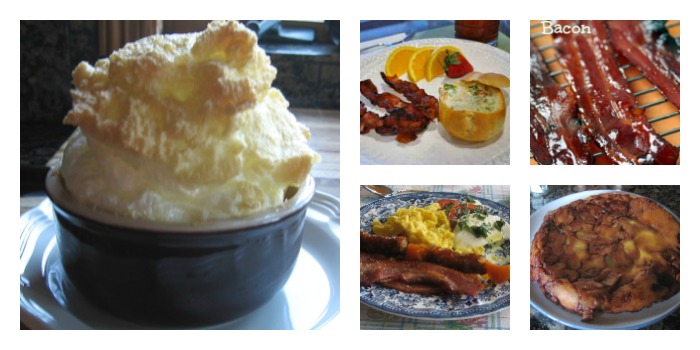 Nuvolone – Cloud Souffle- Egg Souffle – This egg dish will really impress your family and guests as it tastes as good as it looks!  Very gourmet, but also very easy to make!
Crusty Dinner Rolls with Baked Eggs and Herbs – This is a fun breakfast that the kids or grandkids love to help with.  I like my yolks to be just set, but not runny.  That way, I can pick it up and eat it out of my hand.  Our grand kids prefer it that way, as well.
Apple Pancake – The smell of the apples cooking in the oven will drive you wild, let alone the taste of the pancake after it is baked.  You could not serve a better pancake recipe to your family and friends for breakfast or brunch.
Candied Bacon – This is one of those recipes that you will wonder why you did not try it sooner.  Men especially go wild over this bacon, and this bacon will be a huge hit with them!  Excellent to serve for a brunch or special occasion breakfast.
Breakfast Sausage Kabobs – This delicious sausage kabob recipe was shared with me by Fulvia Guyger of Prineville, OR.  Fulvia is originally from Italy and runs a wonderful bed and breakfast called the Bellavista Bed & Breakfast.
Dessert Ideas: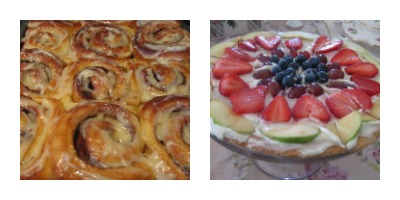 Harvest Cinnamon Rolls – These are absolutely wonderful cinnamon rolls – very rich and delicious!
The best part about making this cinnamon roll recipe is that the dough can be mixed and the rolls filled, shaped, and frozen.  The night before I need to bake them, I take them out of the freezer to thaw and rise.  When I awake in the morning, I just put them in the oven and bake. So easy to make and so rewarding!
Fruit Pizza – A beautiful and delicious fruit dessert pizza for brunch or any special occasion.  It is very easy to put together and is a certain crowd pleaser.  Your children will love it!
Choice of fresh juices and freshly brewed coffee
A good way to end a meal is with a latte.
How to make a perfect cup of Coffee.
How To Use a French Press coffee press, plunger press and/or press coffee.
More Beverage Ideas:
Italian Affogato  – Affogato al Cafe – Affogato means "drowned" in Italian or "drowned in coffee."  It is a dish of perfect, preferably smooth ice cream, drowning in a cup of espresso – like a decadent coffee float!
Hot Chocolate – There is a difference between hot cocoa and hot chocolate.  The terms are often used interchangeably, but technically they are as different as white chocolate and bittersweet chocolate.  Hot cocoa is made from cocoa powder, which is chocolate pressed free of all its richness, meaning the fat of cocoa butter.
Chai Tea – Masala Chai – Spiced Milk Tea – Chai, pronounced with a long "i" as in the word tie, is the actual word for tea in many countries.  It is also called masala chai (Masala meaning "spiced").  It is a centuries-old beverage from India which  is basically black tea brewed with selected spices and milk.  The spices vary from recipe to recipe, but is traditionally consumed hot and sweet.  Play with the flavors and make this tea your own!  This is a great alternative to coffee.
---
Food Safety Pages
Buffet and Party Safety – Also includes what to do if your guests have been delayed at least an hour
Golden Rules of Food Safety – IF IN DOUBT, THROW IT OUT!  If you have any question in your mind about the freshness or safety of eating a food product, throw it out.  It is better to be safe than sorry!
Picnic Safety Tips – There is nothing more American than the picnic.  Picnics can take on many forms, such as the community picnic, friends and neighbors, tailgate parties, or ball games.  There is also one sure thing at every picnic-lots of good food.  The important point is to have safe and healthy food, not food that can cause food borne illness. Always prepare and store food properly.
Dining Etiquette Guide:
Dining Etiquette Guide – Restaurant and Dinner Party Manners and Etiquette
Menus and Recipes:
Linda's wonderful Dinner Party Menus includes recipes)
More Brunch Recipes and Egg Dish Recipes
What is a Recipe? – Learn how to follow a recipe, why some recipes do not work, and about Mise en Place
Appetizer Recipes (Hors d' oeuvres, Starters, Amuse-Bouche, and Snacks)
Appetizer Hints – How many appetizers to make for your party?
Comments and Reviews