October Fest Smoked Pork Ribs Family Birthday Dinner
Smoked Pork Ribs Dinner Menu is one we come back to every year for our family's October birthdays.  We end up celebrating four birthdays and an anniversary during this busy month.  In order to please everyone, there has to be a variety of everyone's favorite dishes.  This smoked pork ribs dinner menu is perfect for fall and a winner with plenty of flavors and choices for all.
Appetizers: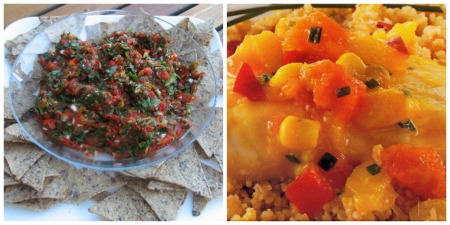 Roasted Chile Pepper and Tomatillo Salsa
Fiery hot salsa – for those you like salsa hot!  So good and so addicting!

Tropical Fruit Salsa
This fruit salsa is a delicious summertime treat.  You can develop a real passion for this salsa, since it is low in calories and very flavorful.
Both salsas are served with your favorite corn chips.  More delicious Salsa Recipes.
Entree – Main Course:
Jalapeno Jerk Baby Back Ribs with Pineapple Barbecue Sauce
You just can not beat a rack of perfectly smoked barbecued pork ribs!  These are tender, mouth watering, and smoky ribs that the meat falls right off the bone.
With ribs, the longer you cook them, the more tender they get as the connective tissues break down.  The challenge is to keep them moist throughout the cooking process.
My son-in-law, Ben Weller, smoked these delicious pork ribs for our family gathering.
Potato Salad
This is my family's favorite potato salad recipe.  A family gathering would not be complete without this salad.  I have tried many other potato salads, and as far as I am concerned, this is the best!  This is one of those recipes that I have a hard time writing the exact amount of ingredients used.  I always just cook up a bunch of potatoes and add the ingredients by taste.  So, add or subtract ingredients to what you and your family personally like.
Green Pea Salad
This is a family favorite that I enjoyed when I was young, and still do today.  It is a very easy-to-make vegetable salad.  Great for taking to a potluck or even a picnic.  Your family will love this recipe!  This salad also goes especially well with lamb.
German Creamed Spinach
This dish is absolutely wonderful!  Itis a family favorite at our house for all holidays and special occasions.  Even children like this spinach dish!  I was taught how to make this German recipe by my children's grandmother, Gertude Zemp.
Barbecue Beans
These wonderful tasting beans are always a favorite at any gathering.  This bean dish seems to be a favorite of most men!  Even people who say they do not like lima beans, love this bean dish.  I usually double this recipe for our large gatherings.
Northwest Cornbread
Served with butter and honey.  My family loves cornbread!  It is easy to make and so good.  Cornbread made in the Northwest is a little sweeter and lighter than the traditional southern cornbread.
Desserts: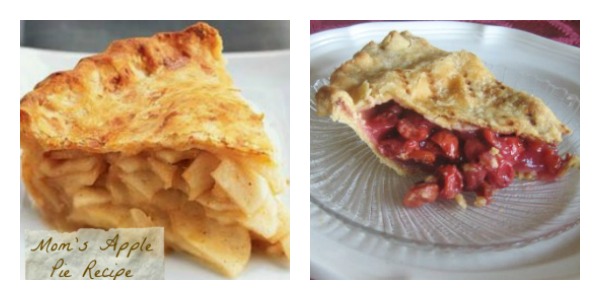 Apple Pie
This is my Mother's, Dorothy Hagerman, apple pie recipe.  It is so good!
Cherry Pie
I used to have a sour cherry orchard on my property before we planted our pinot noir grape vineyard.  This pie is a favorite of my husband.
Be sure and purchase some top-quality vanilla ice for those who want their piece of pie topped with it.  Check out more great Pie Recipes.
---
Check out more recipes and tips:
Linda's wonderful Dinner Party Menus (includes recipes)
Dining Etiquette Guide – Restaurant and Dinner Party Manners and Etiquette.
Appetizer Recipes  – (Hors d' oeuvres, Starters, Amuse-Bouche,& Snacks)
Appetizer Hints – How many appetizers to make for your party?
More of Linda's wonderful Beef Recipes.
Food Safety Pages
Buffet and Party Safety – Also includes what to do if your guests have been delayed at least an hour

Golden Rules of Food Safety – IF IN DOUBT, THROW IT OUT!  If you have any question in your mind about the freshness or safety of eating a food product, throw it out.  It is better to be safe than sorry!
Picnic Safety Tips – There is nothing more American than the picnic.  Picnics can take on many forms, such as the community picnic, friends and neighbors, tailgate parties, or ball games.  There is also one sure thing at every picnic-lots of good food.  The important point is to have safe and healthy food, not food that can cause food borne illness. Always prepare and store food properly.
Summer Safety Tips – Summer is the time for barbecues and picnics. The biggest party crasher at summer picnic and buffets is food borne bacteria.  You can not see them and you can not taste them, but you sure can feel them if illness occurs hours or days later.
Comments and Reviews