Avocados are so versatile and good for you!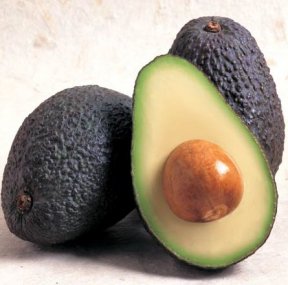 Avocados – they're not just for guacamole!  Although the yummy dip is probably one of their most popular uses, and my guacamole recipes (featured below) are fantastic, there are other reasons to love avocado.
Learn about the interesting Avocados History.  Also how to purchase, store, and use avocado in your cooking.
---
Asparagus and Avocado Wraps
These appetizers are fabulous and also low-fat and low calorie! Sure to impress your guests.  My friend, Roxanne Sienkiewicz of Newberg, Oregon made this wonderful appetizer for our Gourmet Dinner Group.
Avocado-Chocolate Truffles
Yes, you read it right! This is a recipe for Avocado Truffles.  You absolutely won't believe how delicious these truffles are until you have tried this very easy-to-make recipe.  The texture of the avocados mixes wonderfully with the chocolate.  But, beware – these truffles are very rich!
Avocado-Corn Salsa
Delicious and very aromatic.  Can be made as mild or spicy as your like.
Avocado Deviled Eggs
If you're lover of avocado then you will really enjoy these Avocado Deviled Eggs.
Avocado Half-Shells
The opened avocado makes a perfect small golden cup from which to serve any number of fillings.  Avocados on the half-shell may be served at any point in the meal – as appetizer, salad, dessert, or as a meal in themselves.
Avocado, Hearts of Palm, and Red Onion Salad
If you haven't tried Hearts of Palm, this is the perfect recipe to introduce it.  The combination of avocado, hearts of palm, and red onion make a delightful salad.
Avocado Mojo Dressing or Dip
This fantastic dressing would be classified as "raw" since it's using fresh, uncooked ingredients (with the exception of the salt).  This is a very low-fat recipe where the avocados provide a healthy fat for your body and since there is no dairy ingredients, this can also be classified as Vegan.  The flavorings' of orange, lime, and garlic lend a Cuban influence, while the jalapeno chile pepper adds a little kick!
Avocado-Olive Dip
This is absolutely wonderful!  Your guests will go wild over it.
Avocado Pie
Leo Porter of Fort Klamath shared this wonderful pie recipe to me.  Leo grew up on an avocado farm in California. T his is his version of the recipe for avocado pie that was created by his aunt in the 1970s, and is now one of his signature dishes.
Avocado Shake
I love avocados!  Like most Americans, I have only used them in savory dishes.  An avocado shake sounded bizarre to me.  In Asia and also Brazil, avocado shakes are very popular. As avocados are a fruit and not a vegetable, this combination makes perfect sense.  The flavor is is subtle and very addictive!
Avocado-Tomato Melt
The perfect Fall dinner or lunch sandwich when the tomatoes are ripe.  I like to use my vine-ripened tomatoes. So good!
Chunky Avocado Salad – Chunky Guacamole Dip
This version of guacamole was shared with me by Marisela Reyna of Hillsboro, Oregon.  I really like this chunky version of guacamole over the mashed ones.  It can be served as an appetizer or a salad with either corn or flour tortillas.
Dorito Taco Salad
This is a very popular taco salad garnished with Doritos tortilla chips.  I like to add corn and avocados to make a good thing even better!  This salad is served at many potlucks and picnics.  It usually goes fast, so load up your plate as it is very addicting salad!  This recipe can easily be varied to your family's taste.  My daughter says, "If you have little picky eaters, add in onions and tomatoes after the kids have been served.  They loved this salad with the Doritos mixed in!"
Fresh Mozzarella Penna Pasta
My husband said this is a DEFINITE winner!  It is so easy to make and so good.  No cooking with this recipe (except for the pasta);
Grilled Corn, Tomato, and Avocado Salad
If you source your corn, tomatoes, and sweet basil from your garden or local Farmer's Market, you will love the combination of fresh flavors this salad offers you.
Guacamole Dip With Cilantro
In the cuisine of the Southwest, guacamole is used as a cocktail dip, or one of the toppings and/or fillings of enchiladas, tacos, tostadas, or burritos.  It is also wonderful as a cold sauce for grilled meats or fish.
Guacamole (Garden Style)
Guacamole can be found on the menu at many Mexican food restaurants, and it is possible to be just a bit different at each restaurant.  Therefore, this recipe may not seem like what you have eaten as guacamole, but it can always be changed to your preferences.  Guacamole is very simple to make, and you can take quite a few freedoms in how you make it, even what you put in it.  This recipe is for a basic "chunky" style guacamole.
Linguine with Guacamole
This Guacamole Pasta tastes so decadent that it is hard to believe that it is a low-calorie dish.  It is so easy to make that it can be on your table in just 15 minutes.  You can have pasta when dieting!  Pasta is low fat – it is the topping that you put on the salsa that makes it fattening!
Mango, Chicken, and Avocado Salad
Enjoy this symphony of flavors combining fresh seasonal mango with cool creamy avocados in this chicken salad.  Makes a perfect light dinner salad to enjoy in spring or early summer.  I just drizzled some olive oil, balsamic vinegar and a little sprinkling of chile powder over the top to add an extra zing that complimented the fresh produce.
Orange and Avocado Salad
This refreshing and delicious Orange and Avocado Salad recipe and photo were shared with my by Karen Calanchini, Food Stylist and Photographer, of Redding, CA.
Peach-Avocado Salsa
This recipe was shared with me by my friend, Karen Calanchini of Redding, CA.  This salsa is very refreshing on a hot summer day.
Roasted Bell Pepper and Avocado Salsa
Recipe by Chef Sarah Scott of the Robert Mondavi Winery of California. This salsa is great served with corn chips, tortillas, tacos, burritos, tostadas, etc.
Southwest Cowboy Caviar – Texas Caviar
Is Cowboy Caviar a dip or a side salad?  It is a flavor bursting blend of vegetables and beans that makes a nutritious and filling salad or a great addition to a party as a side dish or appetizer chip dip (a lot like salsa).  What is also great about this dish, is that you can adjust the ingredients to your family's taste.  Either way you served this delicious Southwest Cowboy Caviar, it is delicious and sure to please your family or guests.  Makes a great vegetarian and vegan dish, as it is gluten-free, nut-free, and dairy free.
Summer Salad with Fresh Corn
While my daughter was on her beach vacation, she was introduced to fresh raw corn in a salad.  She loved the wonderful sweetness and crunch of the raw corn that really complimented the salad greens.  When she came home she had to recreate this salad and also used some salad greens from her garden.  Try throwing some fresh raw corn into the mix of your next salad!
Tomatillo-Avocado Guacamole
This recipe is courtesy of Betty Forner and Trey Forner of Vancouver, Washington.  I first tasted this outstanding guacamole at our friend's Louisiana Crawfish Boil.
Tomatillo-Avocado Salsa
This is kind of like a salsa verde, but with the addition of avocado.  This salsa is so good and very addictive!
Tomato Avocado-Goat Cheese Crostini
Recipe and photo courtesy of The California Tomato Commission.  These appetizers can be made anytime of the year, but be sure and make this recipe when fresh vine-ripened tomatoes are in season.
Tomato, Basil and Avocado Tortilla Sandwich
This was so nice to eat for breakfast on a cool summer morning.  This tortilla sandwich would also be great anytime of the day.
---
How to use avocado on almost every dish you make
– By Will Brokaw of Will's Avocadoes.
Will says,"I come from a family with a 50 year history in the avocado industry.  I've spent my entire life surrounded by avocados.  You'd think that I'd be sick of them by now.  Nothing could be further from the truth.  I put fresh avocado (in moderately large amounts) on virtually all entrees.  Here are some of my favorite serving ideas that you can try on your own."
Pizza– Fresh sliced avocado on a freshly baked pizza (preferably a quality New York style cheese pizza) is delicious and easy.
Salads – Fresh avocado cut into cubes is great in most (if not all) salads.
Soup – Avocado is perfect when added to hot served soup as a moderately heavy garnish, as one might do with freshly baked croutons or graded cheese.
Pasta – I like dumping fresh avocado cubes on a freshly served pasta primavera, just after the freshly graded parmesan has melted a bit.
Ala carte – I often prepare avocado slices drenched in lime juice and garlic salt as an appetizer or light snack.
In any event, you should be able to use avocado on just about any standard recipe to taste. Good eating!
Avocado Toast Recipe: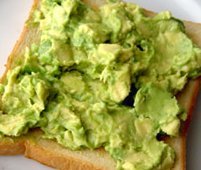 Note From Linda: 
I love toast topped with mashed ripe avocado and a sprinkle of coarse salt and freshly ground black pepper.  Adding some lemon juice to the mashed avocados can help stop it from turning brown.  It still tastes the same when the color changes, but it just doesn't look too pretty!
Comments and Reviews