Holiday Open House – Menu and Recipes
This holiday season, why not host a holiday open house?
A Holiday Open House is an old fashioned way to entertain during the Christmas Holiday season and New Year's Eve that's easy on the host and hostess. An open house is a casual approach to having people over during the holidays. It is a fun, easy, and an informal way to celebrate the holidays with those friends, family, neighbors, or coworkers you will not actually be spending the big day with. Also a great way to meet new neighbors. Use our handy Holiday Open House Menu as a guide for your next open house gathering!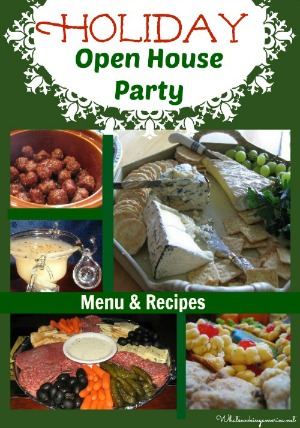 Set the day and time: Usually an open house takes place on the weekend and lasts about 4 hours. Also include a definite ending time. The idea is for people to come and go to sort of spread out the guest list over several hours, thus avoiding overcrowding and giving the host/hostess more opportunity to visit with more of their guests. Send invitations, call, or email friends and family to drop by during the hours of your party.
Make it clear whether children are welcome. If children are also invited, set up a corner (away from ornaments and decorations) with toys and trains for young children to play with. Also offer some kid-friendly foods.
Create the menu: When planning your Open House Menu, think about food that will last through the party with not much fuss. Keep your menu simple and plan a stress-free menu. Serve foods that can be prepared ahead of time. Remember this is a "grazing party" with your guests moving around. Serve bite-sized party food to eliminate plates and utensils.
The party style allows for plenty of make-ahead dishes, plus allows you to spend more time enjoying your guests.
Check your food platters and replenish them often.
Set the mood: Have Christmas holiday music and decorations in your home. Light a fire in the fireplace. Place simple poinsettias or holiday flowers throughout the house.
Mingle and enjoy your guests. Move around the room, making sure you are greeting guests as they arrive, seeing them off as they leave, and that the food and drinks are flowing throughout the event.
Click here for Buffet and Party Safety Tips and Hints: Let's have safe and healthy family gatherings and parties!
To view more dinner party menus and recipes, check out Linda's Dinner Party Menus and Recipes.
---
Beverage Ideas – Alcoholic and Non-Alcoholic Drinks:
Alcoholic Drink Ideas:

Egg Nog Punch – This is an excellent egg nog recipe for a large crowd during the holidays.
Tom and Jerrys – This drink is a Christmas tradition for my family. For children, just omit the alcohol
How To Successfully Taste Wine – Wine Tasting Basics – You could have a wine tasting of different types of wine with your guests.
Non-Alcoholic Drink Ideas:
Chai Tea – Spiced Milk Tea – The spices in Chai Tea vary from recipe to recipe, but is traditionally consumed hot and sweet. Play with the flavors and make this tea your own! This is a great alternative to coffee.
Hot Chocolate – Have you seen the movie, Chocolat? This is like the hot chocolate that was served in the movie. Your guests will love this!
Peppermint Float Punch – This punch is always a hit at gatherings. It is like drinking a peppermint float. I always make this punch a couple of times during the Christmas holidays. Adults and children love this punch.
---
Cheese, Vegetable, and Meat Platter Ideas:
Cheese Boards, Cheese Plates, and Cheese Platters – With assorted breads and crackers. Very easy to prepare as you purchase the cheeses.
Platter of assorted cut-up fresh vegetables, cheeses, and meats plus
Dill Dip for Vegetables and/or Shrimp Cheese Ball or Spread with Bourbon Pecans, and/or Andalusian Marinated Green Olives.
---
Holiday Open House Appetizer Ideas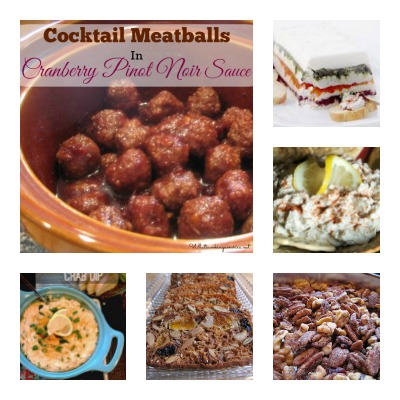 Meatballs in Cranberry Pinot Noir Sauce – These meatballs are easy to make and so good! These are so addictive!
Goat Cheese Torta – When this Goat Cheese Torta is sliced, it reveals colorful distinct layers.
Caviar/Dip Spread – A very easy, but also very gourmet, way to serve caviar to your guests. This is a great starter dish for the "grandest" of affairs.
Bourbon Pecans – Your guests will nott be able to stop "grazing" on these delightful nuts!
Dried Fruit, Nut, and Seed Crisps – I love crackers with nuts and dried fruits in them. They are excellent served with some cheese and wine, and they are so addictive!
Hot Crab Appetizer – This delicious, addictive crab dip will have your family and friends begging for more.
Easy Street Crab Dip – This is fantastic looking and tastes wonderful. Your guests will rave about this one. This recipe can be made up to two days in advance.
Stuffed eggs are always a favorite at any gathering. Men especially go "wild" over stuffed eggs. Usually, deviled eggs are the first to be eaten up at any gathering. Cut the fat and calories by using light or non-fat mayonnaise and sour cream (I personally like the light versions better).
Stuffed "Deviled" Eggs with Caviar – Add some caviar, and you have added a touch of elegance!
---
Holiday Open House Dessert Ideas:
Candy:
Northwest Apple and Apricot Candy (Aplets & Cotlets) – Aplets and Cotlets are a delicious Northwest candy. Aplet and cotlets candies are considered a Northwest delicacy.
Chocolate Truffles – This chocolate truffle recipe can match even the priciest truffles you can find to buy.
Oreo Truffle Balls – This candy is so easy to make and so good!
Peppermint Patties – Homemade Peppermint Patty – I absolutely love Peppermint Patties! They are incredibly delicious and refreshing! They also definitely make a wonderful Christmas treat for your family and friends.
More delicious Candy Recipes – Indulge yourself with these wonderful candies.
Cookies:
Ten Plus Brownies or Dieters Beware Brownies – These brownie recipes screams with calories. Very rich, very good, and very fattening – but your guests are worth it!
Spritz Cookies – What Christmas holiday cookie plate would be complete without Spritz Cookies?
Lemon Bars Deluxe – I have found that it is hard to find a really good lemon bar recipe, as some have too much crust and not enough filling while others are not lemony enough. Here is the recipe that I recommend. It is just right!
Christmas Cookie Recipes: – Bar, drop, molded, rolled and chocolate cookies.
Misc. Dessert Ideas:
Cream Puffs – Everyone loves cream puffs, but most cooks are afraid to try making them since they are considered time consuming and difficult to make. This is actually false, as they are quite easy to prepare and very impressive to serve.
Regal Fruit Cake or Elsie's Blue Ribbon Fruit Cakes – It would not seem like the holiday season without a fruitcake.
Banbury Tea Tarts – This wonderful Banbury Tea Tart recipe was shared with me by my husband's aunt, Lila Scheer of Vancouver, WA. Lila says, "This is an authentic English recipe that was given to me by a former resident of the Peninsula. They are special to me, as they represent my English ancestry."
Fruit Pizza – A beautiful dessert for brunch or any special occasion. It will not keep well, so plan on using it up. You may also use your own sugar cookie recipe in place of the refrigerated cookie dough.
Panforte Di Siena – An Italian confection that is a cross between fruit cake, candy, and honey cakes called Lebkuchen. It is a wonderful confection and so easy to make. I always make this for the Christmas season.
Comments and Reviews