Best Sandwich Recipes
Favorite Sandwiches – Tea Sandwiches – Regional Sandwiches
Find the best sandwich recipes and tea sandwich recipes in our large sandwich recipes collection. Lots of usual to unusual sandwiches that range from the American hamburger to the regional favorites of Limburger Cheese Sandwich and the Walleye Sandwich. Plus many more sandwich recipes to delight your taste buds. Also learn all the educational and helpful hints and tips for making perfect tea sandwiches.
To learn about the history and legends of favorite sandwiches, check out the History of Sandwiches.
Check out my English High Tea Menu and Spring Tea Menu.
Lot of sandwich recipes for your Afternoon Tea or High Tea
Tea Sandwich Recipes: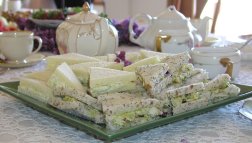 Apple-Boursin Cheese Open Face Fingers
Decorated Easter Egg Tea Sandwiches
Deluxe Chicken Salad Sandwiches
Goat Cheese and Watercress Tea Sandwich
James Beard's Onion Sandwiches
Putting on the Ritz Egg Salad Tea Sandwiches
Radish-Poppy Seed Tea Sandwiches
Radish Sandwiches on Zucchini Basil Muffins
Smoked Salmon Sandwich on Pumpernickel
Tea Sandwiches:
Allow 4 to 6 cut sandwich servings for each person.
Choose the best-quality white or wheat bread as possible.  Never serve end slices.  Freezing the bread before cutting and then spreading makes for easier handling.
Bread slices should be lightly buttered no matter what the filling.  Unsalted butter should always be used.  Butter should be at room temperature before spreading.  Sandwiches will not become limp and soggy as readily if you spread the butter to the edge of the bread.
Cut the crusts off the bread with a long, sharp knife after the sandwiches are filled.  This keeps everything neater.
Since tea sandwiches should be delicate, cut each sandwich in half on the diagonal or into thirds or fourths before serving.  Decorative shapes can be made with cookie cutters.
Making Sandwiches Ahead of Time:
If you need to make tea sandwich recipes in advance and need to keep them from drying out, cover them loosely with a sheet of wax paper and then place a damp kitchen towel over the wax paper (never place a damp towel directly on top of the bread because the sandwiches will become soggy.  Refrigerate until serving time.
When ready to serve, remove from refrigerator.  Uncover sandwiches only just before serving.
Milk is served with tea, not cream.  Cream is too heavy and masks the taste of the tea.  Although some pour their milk in the cup first, it is probably better to pour the milk in the tea after it is in the cup in order to get the correct amount.
When serving lemon with tea, lemon slices are preferable, not wedges.  Either provide a small fork or lemon fork for your guests, or have the tea server can neatly place a slice in the tea cup after the tea has been poured.  Be sure never to add lemon with milk since the lemon's citric acid will cause the proteins in the milk to curdle.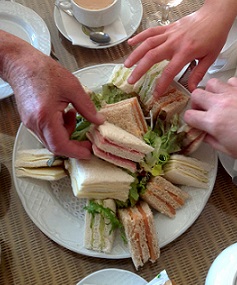 Sandwiches: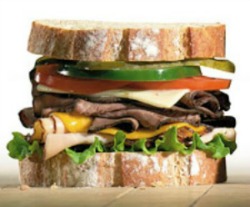 American Hamburger
The elements of the perfect hamburger are a patty of ground beef in a soft round bun, served with ketchup, pickles, and onions.  You may add other condiments, whatever you like, but the meat itself must be of prime quality or it's not worth the effort.  What people prefer on their hamburger can vary from region to region in the United States.
Avocado-Tomato Melt
The perfect Fall dinner or lunch sandwich when the tomatoes are ripe.  I like to use my vine-ripened tomatoes. So good!
Beef on Weck (Beef on Wick or Weck)
Thinly sliced rare roast beef (piled high as 6 inches) on a freshly baked kummelweck roll.  This sandwich is a staple of Buffalo, New York.
BLT Sandwich
This sandwich is a favorite of both my husband and I.  Especially during the fresh tomato season.
Busy Day Sloppy Joe Hot Pockets
Now you ask, what are hot pockets?  Well, hot pockets are small turnovers generally containing one or more types of cheese, meat, or vegetables.
Chevre Wrap
This recipe and photo are courtesy of Jane Butel.
Chimichanga
The chimichanga, or "chimi," has achieved cult status in Tucson.  A chimichanga is a burrito prepared with a choice of meat, vegetables, and spices. deep-fried to a golden perfection, and served on a bed or lettuce with cheese and mild sauce.
Cornish Pasties
These are basically individual pies filled with meats and vegetables that are cooked together.  The identifying feature of the Cornish pasty is really the pastry and it's crimping.
Croque Madame Egg Sandwich
This breakfast-style sandwich is good anytime of the day.  Especially for breakfast or brunch.
Cuban Sandwich
Tasty, toasted Cuban sandwiches are Miami's favorite snack. T hese treats can be found in most Miami restaurants, but the best places to buy them are from the street corner-snack bars, called loncherias.
Egg Salad Sandwich
Egg Salad Sandwiches has always been one of my very favorite sandwiches!
Egg White Frittata Breakfast Sandwich
This easy-to-make Egg White Frittata Breakfast Sandwich is inspired by my work associate, Rachel, who creates her own version of an Egg McMuffin, but much healthier and tastier.  I decided to give it a try with egg whites and spruce it up with a variety of savory vegetables cooked frittata style.
Eggels Breakfast Sandwich
I love to make this "walk-around breakfast" when we are out camping.  Eggels are quick and easy to pull together for a large group, tastes great, and can have many variations to please everyone.
Fluffernutter Sandwich
What is a Fluffernutter?  It is not just a regular sandwich, but a Fluffernutter Sandwich!   It is a calorie-laden sandwich made with two slices of bread layered with peanut butter and Marshmallow Fluff, and sometimes along with the occasional banana.
French Dip Sandwich
It is a beef sandwich on a long white French roll that is dipped into pan juices.  American menus often describe the pan juice as "au jus."  Au jus is a French expression, which means "with broth" or "with juice."
Gourmet Roast Beef Deli Sandwich
What could be better than a wonderful roast beef sandwich?
Grilled Parmigiano Reggiano Cheese Sandwich
A very unusual and tasty cheese sandwich.  So simple and so good!  The pepper makes a wonderful tasting statement along with the Parmigiano Reggiano cheese, so use good peppercorns and grind them fresh.  Cut into small finger sandwiches, these go great to serve at your wine tastings.
Horseshoe Sandwich
This sandwich is considered the signature dish of Springfield, Illinois, the home of Abraham Lincoln . This sandwich will make your arteries cringe and your taste buds rejoice!  Today's sandwiches now offer either a thick fried ham steak or two large hamburger patties, and the cheese sauce is poured over the fries.
Hot Brown Sandwich
Chef Fred K. Schmidt at the Brown Hotel in Louisville, Kentucky, created The Hot Brown sandwich in 1926.  Today, this sandwich is considered the signature food of the hotel restaurant.
Italian Grilled Chicken and Pesto Panini
This Panini is full of lively flavors.  If you make your own basil pesto, it is a cinch to put together.
James Beard's Onion Sandwiches
James Beard refers to these sandwiches in his book Beard on Food.  I first tasted these wonderful onion sandwiches at a wine tasting.  They are fantastic!  This is quite possibly the perfect reward, along with a glass of wine, for yourself and your guests.
Lettuce Wraps or Lettuce Tacos
You've tried burritos and pita pockets, now try Lettuce Wraps, the latest trend at Asian restaurants.  Cool and crispy lettuce combined for delicious, hands on meals! In addition, they are healthy!
Limburger Cheese Sandwich
My father, Kenneth Stewart, loved limburger sandwiches!  As a young girl, whenever Dad would eat one of his strong smelling sandwiches, my brothers and I would cover our noses and make funny noises as he shooed us off.
Naan Bread with Tomato Raisin Fusion Salsa
This makes an easy healthy and quick snack or meal.  This would even be great as an appetizer, as the flavors are very bright and complex.  This is similar and reminds me of a Tomato Bruschetta.
Navajo Fry Bread – Indian Tacos
Indian fry bread is the foundation of a popular dish called Indian Tacos. Originally known as Navajo Tacos, they have been adopted by other tribes.  Indian tacos are the universal modern pow wow food.  They are also popular attractions at many fairs, festivals, and outdoor summer shows held in the southwest.
New Orleans Muffuletta
The muffufletta sandwiches' nickname is simply "muff."  These sandwiches can be found all over New Orleans from delis to pool halls and the corner grocery stores.  It is considered as much a signature sandwich of New Orleans as the Po' Boy Sandwich.  Also check out this Mini Muffaletta Recipe.
Philadelphia Cheese Steak
A cheese steak sandwich is not really a steak at all – it is a sandwich made with chipped steak, steak that has been frozen and sliced really thin) and cooked on a grill top.
Pork Adobo Tacos – Slow Cooker – Crock Pot Recipe
This is a wonderful version of tacos that uses lean pork tenderloin and dried Ancho chile peppers.  The peppers offer a lovely richness to a beautiful deep mahogany sauce.
Pork Carnitas
There are probably as many different carnita recipes as there are chili con carne recipe. In Mexico, carnitas are a popular snack.  The pork is often used as a filling in tacos, but carnitas are cooked and eaten in a variety of styles.
Prosciutto de Parma Quesadillas
This delicious Prosciutto de Parma Quesadilla recipe and photo were shared with my by Karen Calanchini, Food Stylist and Photographer, of Redding, CA.
Quesadillas – Sincronizadas
Quesadillas originated in the central part of Mexico, but they have traveled across the southwest over the years, and have taken on many different characteristics.  Quesadillas are corn tortillas filled with cheese (thus the name "quesa" dilla).
Quesadillas with Cheese
This delicious Quesadillas with Cheese recipe and photo were shared with my by Karen Calanchini, Food Stylist and Photographer, of Redding, CA.  Karen like to serve these delicious quesadillas with her Spicy Chili with Peppers.
Radish, Butter, and Bread (open-faced sandwiches)
This is a favorite appetizer that has appeared on European menus for decades.  Four ordinary ingredients – bread, butter, salt, and radishes – become a gourmet delight when they are eaten together.
Reuben Sandwich
A grilled sandwich made with corned beef, Swiss cheese, sauerkraut, and Russian dressing on rye bread.  There are a couple of legends or stories involving the creation of the Reuben Sandwich.  I can find no actual evidence to support either claim.  You be the judge!
Roasted Chicken, Tomato, and Cheese Panino Sandwich
This delicious and easy-to-make roasted chicken panini sandwich recipe and photo were shared with my by Karen Calanchini, Food Stylist and Photographer, of Redding, CA.
Scallop Fish Tacos
A fun way to enjoy the fresh flavors of Mexican cuisine all wrapped up in a soft taco.  This will even work with your diet!
Smoked Salmon Sandwiches on Pumpernickel
A wonderful and tasty way to use smoked salmon.  The pumpernickel bread gives that "little something special" to the sandwich.
Southwest Burritos
Burritos are great for parties, friends dropping over, or any other time. J ust cook your meat and place it in the middle of a buffet style table with all the toppings readily available for guest to build their own burrito!  You can even make a variety of meats to serve, so that everyone can get just what they want!
Spicy Beef Wrap
I've adapted this wonderful recipe is from the Seattle & King County Public Health website.
Spiedie Sandwich
The name comes from the Italian spiedo meaning "kitchen cooking spit."  Originally made from lamb, they are now made with virtually any meat It is chunks of lamb, pork, chicken, beef, or venison that has been marinated for days in a tart sauce and then grilled on a metal skewer, usually over charcoal or gas.
Tomato, Basil and Avocado Tortilla Sandwich
This was so nice to eat for breakfast on a cool summer morning.  This tortilla sandwich would also be great anytime of the day.
Tuna Salad Sandwich
I created this recipe when wanting to fix something different for lunch.  I stuffed this tuna salad into a garden-ripened tomato.  It was delicious!  This would also make a wonderful tuna salad sandwich.
Tuna Supreme Sandwich
I'm a tuna sandwich lover from way back (childhood).  I never would have thought that I would like any tuna sandwich other than the traditional one that I grew up with.  This sandwich converted me.  This tuna spread will tingle your taste buds with all the delicious flavors.
Turkey-Cranberry Sliders
How about surprising your guests with these delicious Turkey-Cranberry Sliders?
Veggie Hummus Wrap
This is a very simple and easy homemade lunch wrap to prepare, as I always have chickpeas, garlic, fresh lemons, and olive oil in my pantry.  This hummus recipe has fewer calories and less fat and salt than store-bought varieties.
Vegemite Sandwich
Using your favorite bread, some butter or margarine, and of course, Vegemite.
Walleye Sandwich
Walleye's delicate meat is white and flaky and no matter how it is prepared, it is delicious.  One of the locals' favorite ways to eat walleye is in a sandwich.  A day of fishing would not be complete without a traditional shore lunch featuring freshly caught walleye from the icy waters.  Thin fillets are breaded and either deep-fried, grilled, or pan-fried, and served in a fresh French loaf or on a hamburger bun with lettuce, tomato, and tartar sauce.
Comments and Reviews