How To Plan A Thanksgiving Dinner Menu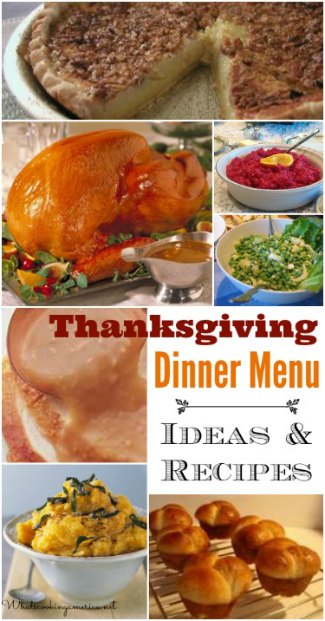 Planning a Thanksgiving dinner menu can be overwhelming, especially if you are hosting and cooking your first holiday dinner.
Even if this is your traditional annual family meal, you can freshen up your dinner with some new recipes.
I have gathered many of my family's favorite recipes to celebrate with on Thanksgiving. Although there are many recipes here, they are options, you do not have to make them all, just chose the course option(s) that sound good to you.
Have fun mixing and matching for a wonderful Thanksgiving Dinner menu.
Before planning this year's Thanksgiving Dinner menu, please read Thanksgiving Planning – Stress-Free Thanksgiving (How to plan and prepare your Thanksgiving dinner in advance without stress).
Appetizers Ideas:
Appetizer ideas to serve your guests while waiting for the Thanksgiving dinner menu to be served. Serve light appetizers before your dinner, as you don't want to fill up your guests. Also serve appetizers that can be made ahead of time and kept in the refrigerator until ready to serve. Many, many more Appetizer Ideas.

Pimento Cheese Spread or Topping – This is a variation on the very popular Southern Pimento Cheese Spread. This Pimento Spread has a slight kick without being too much.
Tarragon-Rice Stuffed Mushrooms -This is a great low fat and low calorie appetizer to serve your guests.
Cranberry Salsa with Cream Cheese or Cranberry Holiday Spread – An interesting and delicious way to serve cranberries on Thanksgiving.


Platter of assorted cut-up fresh vegetables, cheeses, and meats plus Dill Dip and/or Roasted Jalapeno Dip. This is so easy to make and everyone likes to "munch" on these.
Cheese Fondue
Fondue, an ancient Swiss dish, is very easy to prepare, fun to serve, and enjoyable to eat. It is the perfect dish to gather your friends and family to create a sense of intimacy that is informal and memorable.
Cheese Boards – Cheese Plates – Cheese Platters
Entertaining frequently includes some kind of cheese tray, often with fruit or vegetables or meat or a combination of these foods. This is an opportunity to be creative and introduce your guests to some new cheeses. It is great fun!
---
Soup Course Ideas – Optional Course:
Next on the Thanksgiving dinner menu, I like to serve a soup course to start the dinner off. Serve a light soup and serve small amounts (more appetizer size). Just enough to delight the taste palates of your guests and family. Lots of delicious Soup, Stew, Chili and Chowder Recipes.

Curried Butternut Squash Soup – This is one of my family's favorite soup recipes. I have also served this delightful and interesting soup for dinner parties.
Troppo's Squash Bomb Soup – This delicious squash soup is like a dessert before dinner.
Tomato-Basil Crab Bisque – This soup is so good! This is one of the best bisques that I have tasted.
Carrot Vichyssoise – This recipe originally was made at the Four Season's restaurant in New York. So good!
---
Main Dish:
Turn off the TV during your Thanksgiving dinner. Remember, Thanksgiving only comes once a year. Focus your attention where it belongs on the delicious food and your family and friends. When the dishes are done, EVERYONE can enjoy the games (or the chat in the other room).
Oven Roasted Turkey
America's traditional Thanksgiving turkey dinner meat. Learn how to safely and easily prepare and roast your turkey.
Brining Poultry
The secret to juicy chicken breast is simple – brine them before grilling or baking! It is very easy and economical, and requires no special cookware. This is the secret that chefs never tell you about.
---
Side Dishes:
Stuffing or Dressing Choices:
Stuffing or Dressing choices are usually made according to the region you live in and also family favorites. Advice on Stuffing a Turkey Safely

Turkey Stuffing – This is my family's favorite Turkey Dressing/Stuffing recipe that I make every year.
Whether you call it "stuffing" or "dressing," what's not to love about turkey stuffing? It is often one of the best parts of a turkey dinner. It is so easy to prepare. Also be creative and add your family's favorite ingredients.
Sweet Onion Cornbread Stuffing – This wonderful cornbread stuffing will delight your family and friends. It is easy-to-make and so delicious! Use it as a great stuffing alongside of your poultry dishes.
Grandma's Oyster Dressing – This oyster dressing must be served as a side dish and not as a turkey stuffing in the turkey.
Scalloped Oysters – Scalloped oysters are fantastic served as a special side dish, first course, or an appetizer with crackers. For many families, this dish is a Thanksgiving and Christmas tradition.
Cornbread Stuffing with Fresh Figs, Morels, and Foie Gras – If you really want to be fancy and step up your Thanksgiving dinner, try this unusual and wonderful dressing. – Learn about Foie Gras.
---
Potato Choices plus Gravy: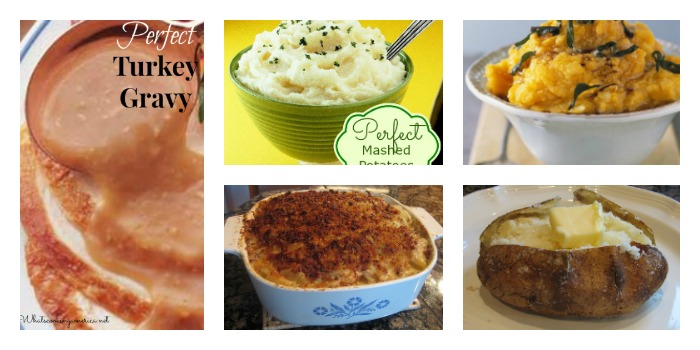 Making Perfect Turkey Gravy – Homemade turkey gravy, made using the turkey giblet stock, pan drippings, and meat juices from the roast turkey, is an essential part of a traditional Thanksgiving dinner. Hints and tips for making that perfect turkey gravy.
Perfect Mashed Potatoes – This easy-to-make mashed potato recipe is perfect for Thanksgiving and Christmas. This recipe is classic and simple.
Make-Ahead Mashed Potatoes – Save your valuable kitchen time on Thanksgiving day by using this easy-to-make mashed potato dish. This recipe is especially great when serving a crowd as it eliminates the mess and last-minute hassle of whipping potatoes.
Browned Butter Smashed Potatoes with Butternut Squash – Try something new and impress your family and guests with this delicious combination of potatoes and butternut squash.
Asiago and Sage Scalloped Potatoes – This is my family's favorite scalloped potato recipe. I especially like to make it during the holidays. This can be made ahead of time.
Perfect Baked Potato – The perfect baked potato has crisp golden skin on the outside and is pure white and fluffy on the inside. It is very easy to bake the perfect potato. If you follow the easy guidelines, you will always have perfect baked potatoes!
Slow Cooker Garlic Roasted Baby Potatoes – Least amount of effort to dump and roast these delicious garlic baby potatoes. No peeling or mashing required!
---
Cranberries and Gelatin Salads:
It is up to you to decide how many side dishes you serve with your dinner. The more family and/or friends invited to dinner, the more side dishes. Our tradition is that each family invited will bring a side dishes to the dinner to help out with all the preparation involved in preparing the dinner. If you also do this, be sure and decided in advance what you want everyone to bring, so you do not end up the 3 or 4 versions of the same dish!
Cranberry Relish – My son-in-law makes this wonderful family recipe for Thanksgiving and Christmas dinner every year.
Cranberry Sauce with Raspberry Vinaigrette – This traditional sauce is enhanced by raspberry vinegar. Very delicious!
Tomato Aspic Gelatin Salad is a favorite old-fashion family comfort food. If you think of tomato aspic as a congealed Bloody Mary cocktail drink, you kind of know what it tastes like.
Blueberry JELL-O Salad – You will find this dessert commonly served at holiday gatherings and special occasions. Even people that do not typically like Jell-O dishes love the texture of this dessert and ask for seconds!
Fiesta Carrot Pineapple JELL-O Salad – This Fiesta Carrot Pineapple JELL-O Salad is a classic JELL-O recipe that is light and refreshing! The whole family devours this JELL-O salad. While the pineapple-carrot flavor combination is unique, they work very well together.
Red Hot Applesauce JELL-O Salad – Another classic holiday JELL-O salad recipe from the 1950's. Red Hot candies are used to add a tasty cinnamon flavor. Also apple sauce and citrus soda add a nice thicker consistency and texture to to this dish.
---
Vegetables:
Green Beans Supreme – Green Bean Casserole – This green bean dish is considered the ultimate comfort food with some America families. Most holiday meals (especially Thanksgiving and Christmas) would not be complete without this green bean dish. Add this classic to your family's Thanksgiving dinner menu.
German Creamed Spinach – This dish is absolutely wonderful! It is a family favorite at our house for all holidays and special occasions. Even children like this spinach dish!
Hashed Brussels Sprouts with Poppy Seeds and Lemon – This simple recipe has converted lots of sworn Brussels-sprout haters into devoted connoisseurs. They have turned the sprouts into comfort food by 'hashing' and stir-frying them with poppy seeds.
Roasted Cauliflower – This method of preparing cauliflower is very simple and extremely delicious. If you have never roasted cauliflower, try it now!
Relish Plate (pickles, olives, etc.) – A Thanksgiving dinner isn't complete without a relish plate to nibble on.
Corn au Gratin – Creamy and cheesy baked corn casserole side dish.
Southern Style Creamed Corn – A hearty creamed corn that incorporates the flavors of bacon, butter and cheese.
---
Salads:
Kale Harvest Salad – A perfect combination of autumn fruits and vegetables. Featuring kale as the star ingredient, along with roasted squash, dried cranberries, apples, nuts, and seeds to create a bowlful of goodness.
Caesar Salad – My all-time favorite salad is the Caesar Salad. To many, including myself, this is the King of salads. Caesar salads are very easy to make and can be prepared in advance. This salad will definitely impress your dinner guests.
Following is my delicious low-fat version of Caesar Salad. I promise you that your guests will never know the difference! I make this low-fat and easy-to-make version all the time. I serve this salad with Thanksgiving and Christmas dinners. Low Fat Caesar Salad Recipe
Kale Caesar Salad – For an unusual salad that is delicious and is considered very healthy. For your vegan family or friends, take out the anchovies and toss the salad with a vegan salad dressing.
Fresh Fruit Salad with 1-2-3 Fruit Dressing – This is very refreshing and delicious fruit salad. I use whatever fresh fruit is in season when making this salad. The combination of citrus fruits in the dressing gives the salad a wonderful delicious flavor!
Green Pea Salad – This is a family favorite that I enjoyed when I was young, and still do today. It is a very easy-to-make vegetable salad. Great for taking to a potluck or even Thanksgiving dinner. Your family will love this recipe!
---
Bread or Roll Choices:
Homemade rolls and breads are always preferred, but it you do not have the time to make your own, purchase top-quality rolls and breads at a local bakery.
Honey Butter – Honey Butter is a must when serving cornbread and biscuits for our family.
Make Ahead Butter Rolls – This is one my favorite roll recipe to use for holiday dinners, especially Thanksgiving and Christmas dinner. Very easy to make ahead and bake at the last minutes.
Perfect Flaky Buttermilk Biscuits – Homemade biscuits are so easy to make, and if you follow a few simple rules, they will always turn out fluffy and delicious.
Northwest Cornbread – My family loves cornbread! It is easy to make and so good. Cornbread made in the Northwest is a little sweeter and lighter than the traditional southern cornbread.
Various Yeast Breads – In order not to have to heat rolls in my oven, I sometimes make various homemade breads the day before Thanksgiving. This saves me a lot of time on Thanksgiving day and pleases my guests.
---
Thanksgiving Desserts (lots of great ideas and choices):
Most families serve at least two (2) dessert choices.
Pumpkin Pie – Thanksgiving Pumpkin Pie – How about making this very easy and traditional pumpkin pie for your Thanksgiving dinner?
Pumpkin Swirl Gingersnap Cheesecake – Here is a fun twist for your pumpkin cheesecake. The delicate swirling of the pumpkin in the cheesecake makes a beautifully festive holiday dessert. I usually make this cheesecake ahead of time and freeze it. See .
Pumpkin Chiffon Pie – This very light pumpkin chiffon pie will be a big hit at your Thanksgiving dinner. People who are not a big fan of the traditional pumpkin pie, like this version.
Pumpkin Empanadas – Pumpkin empanadas are made both on Thanksgiving and Christmas for some Mexican-style Thanksgiving Dinners.
Devonshire Cream or creme fraiche or sweetened whipped cream to top your pies.
Pecan Praline Pie – There is the plain pecan pie and there is this "souped-up" version that the Southern people make for their Thanksgiving dinner menus. This is a delicious alternate to the classic pecan pie.
Pecan Pie – The only way this pie could be better tasting is to serve it warm and topped with a big scoop of vanilla ice cream.
Buttermilk Pie – This is a delicious, old-fashion Buttermilk Pie. Do not be put off by the buttermilk – this is a sweet and flavorful pie. My aunt made five pies for a family reunion, and this pie was definitely my favorite!
Old-Fashioned Mincemeat Pie – This has been my favorite holiday pie since I was a little girl. My mother and grandmother used to make her own homemade mincemeat.
Mom's Apple Pie – This is my Mother's apple pie recipe. You can never do wrong serving this pie. It is so good!
Lighter Dessert Ideas:

Spiced Pumpkin Mousse Trifle – How about a light dessert? Wouldn't this be an excellent dessert for your Thanksgiving Dinner?

Pumpkin Parfait – A light alternative to pumpkin pie for Thanksgiving dinner.