Bean Recipe Collection – Fresh Bean Recipes – Dried Bean Recipes
The best top-rated bean recipe collection features fresh green bean and dried bean recipes for all your cooking needs. Beans can add lots of flavor and protein to all kinds of dishes. Discover delicious and interesting recipes to include beans in your family's diet with our bean recipe collection.

Fresh or Frozen Green Bean Recipes: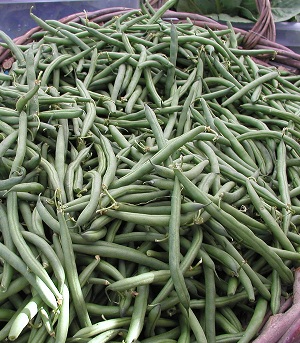 Learn about How To Cook Perfect Green Beans and also learn about cooking with Chinese Long Beans.
Appetizers:
Salads:
Green Beans and Potato Salad with Herbs
Mint Green Beans and Egg Salad
Red Potatoes and Green Bean Salad
Side Dishes:
Green Beans and Red Bell Pepper in Balsamic Vinegar
Green Bean Casserole – Green Bean Supreme
Green Beans with Balsamic-Shallot Butter
Green Beans with Basil and Cherry Tomatoes
Green Beans with Toasted Hazelnut Vinaigrette
Grilled Green Beans with Gorgonzola Vinaigrette
Marinated Chinese Long Beans with Peppers
Mom's Green Beans – Country-Style Green Beans
Sauteed Green Beans and Potatoes with Rosemary and Lemon Zest
Zucchini, Eggplant, and Green Beans with Tomatoes
Soups:
Italian Vegetable Soup with Herbs and Rice

Dried and Canned Bean Recipes: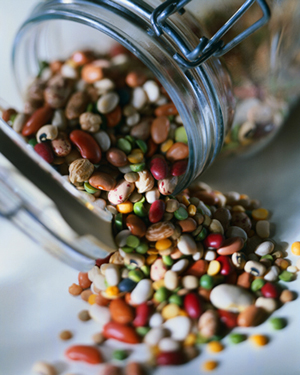 Click here to find out about Dried Bean Hints and Tips and Basic Bean Recipe for Cooking Beans.
Appetizers:
Baked and Cooked Beans:
Black Valentine Beans with Garlic and Green Chile Pepper
White Aztec Beans with Salsa Verde
Chili Recipes:
More great Chili Recipes
Arnold's "Old Leatherthroat" Chili Con Carne
Misc. Dishes:
Baked Eggs and Spicy Black Beans in Tortilla Cups
Beef and Bean Burritos with Hatch Chiles
Clod Tenders with Bell Peppers and Beans
Refried Beans (Frijoles Refritos)
Spicy Sweet Potatoes with Beans and Onions
Salads:
Black Bean and Couscous Santa Fe Style
Ensalada de Colores – Vegetable Salad
Red Quinoa Salad with Lime Chipotle Vinaigrette
Soups:
15-Bean Soup with Ham and Sausage
Orca Bean, Jalapeno Chile, and Yellow Rice Soup
Smoked Turkey, Bean and Kale Soup
Smoked Turkey Chorizo Soup with Swiss Chard
Comments and Reviews