Squash Recipe Collection
Winter Squash – Summer Squash
Learn how to make of outstanding and delicious squash recipes using Winter and Summer squash varieties. Enjoy our extensive squash recipe collection!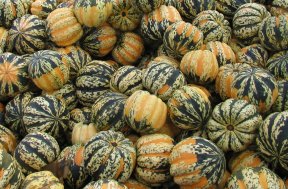 Learn about Squash Varieties, Squash Cooking Hints, Tips, and more Squash Information
Winter Squash
Acorn Squash
Baked Acorn Squash
This is the classic way to cook and serve acorn squash.  Recipe includes variations for everyone's taste.
Baked Acorn Squash with Bacon
This is one of my family's favorite way of cooking acorn squash.  My daughter always wants this baked acorn squash for her birthday dinner.
Baked Squash With Blueberries
This squash is so delicious that it could be served for dessert!
Creamed Oysters in Acorn Squash
This outstanding dish combines two of my favorite foods, oysters and acorn squash.  Besides being delicious, it is beautiful to look at.
Dried Fruit Stuffed Acorn Squash
This stuffed squash is so easy-to-make and so good!
Roasted Rosemary Garlic Chicken
Since it is also fall and squash is in season, I included acorn squash and Brussels sprouts.  The vegetables roasted up nicely in the juices of butter, rosemary and garlic.
Stuffed Acorn Squash
This almost tastes like you are eating dessert!
Warm Roasted Vegetable Salad with Goat Cheese and Pesto
First I fell in love with the picture, then I read the recipe, and it grabbed me. Imagine, a perfectly roasted, very colorful bell pepper stuffed with a fresh basil leaf, home made basil pesto, goat cheese, and grape tomatoes.
Butternut Squash – Kabocha Squash
Butternut Squash Bread
This butternut squash bread is very moist and so delicious! I couldn't stop eating this bread.
Butternut Squash Gratin
This butternut squash gratin is so good!  This would make a great side dish for your Thanksgiving meal, but it is also good anytime.
Delicata Squash
Baked Delicata Squash Rings
Delicata squash rings make an easy and healthful appetizer.

Baked Delicata Squash with Lime Butter
Delicata squash is my favorite squash, and this is my favorite way to cook them. So easy-to make and so delicious!

Delicata Squash with Rosemary, Sage, and Cider Glaze
This is one of my favorite ways to cook delicata squash.

Savory Squash Rolls
I created these delicious savory rolls as a way to use some of my delicata squash.
Summer Squash
Zucchini Squash – Crookneck Squash – Misc. Summer Squash
Spaghetti Squash
Spaghetti Squash with Italian Meat Sauce
Spaghetti Squash is a great alternative to pasta when on a diet, as it is low in calories and gluten free.  The cooked flesh of the Spaghetti Squash shreds into threads like thin spaghetti pasta or vermicelli.
Cheese-Filled Zucchini Appetizer
When zucchini squash are very small, there is no finer treat to be found in the vegetable world.
Chicken, Zucchini & Fresh Corn Burgers with Green Onion, and Cumin
This delicious recipe is summer in a burger, bursting with the peak of the season's bounty from the garden.  It sure was good, even my best critic loved it.  Very fresh and pretty.
Cucumber Zucchini Aqua Fresca
My daughters came across this unique and very refreshing agua fresca flavor combination at a local farmer's market food booth this weekend.  This drink really hit the spot while they were standing out in the hot sun, and my grandsons were also fighting over this drink!
Garden Fresh Pasta
This is a great pasta dish using vegetables from your garden or use the "odds and ends" from your refrigerator.
Gorgonzola Lasagna
This lasagna is a definite winner – it is so good!
Italian Vegetable Soup with Herbs and Rice
This Italian Vegetable Soup with Herbs and Rice is an all-vegetable Italian soup that is so rich and healthy and full of bright colors, great flavor, and very versatile.
Lemon Banana Zucchini Bread
This is a very moist and delicious banana bread.  The texture is more cake-like than other quick breads. My husband loved it!
Oven Baked Squash
In a way this dish resembles macaroni and cheese with the macaroni substituted for squash.
Oven-Fried Zucchini in a Crunchy Parmesan Crust
Zucchini is traditionally fried in a hot skillet in lots of oil, but cooking it in a crust in the oven leaves it less greasy and far more savory.
Radish Sandwiches on Zucchini Basil Muffins
These muffins would actually be perfect for late summer, when zucchini and basil plants are growing abundantly.
Red and Yellow Bell Peppers Stuffed with Orzo and Zucchini
There is a bounty of beautiful produce at our Farmer's Markets now.  The eye popping bell peppers caught my eye this week.
Roasted Baby Squash with Fresh Herbs
This delicious and very easy-to-make Roasted Baby Squash recipe.
Roasted Zucchini Squash Soup
A delicious hot zucchini soup using roasted vegetables.
Round Zucchini Squash with Banana Peppers
The fresh lemon juice compliments the squash and the browning gives it a complexity that enhances the banana peppers sweetness.
Shish Kebobs
This recipe below is the perfect meal for an outdoor party.
Sourdough Banana Zucchini Bread
I'm always looking for new ideas and recipes for using my Sourdough Starter.  This bread recipe is perfect as the bread is so so easy-to-make and delicious!
Spicy Kielbasa Soup
A delicious and spicy soup that provides another way to use zucchini squash.
Stuffed Zucchini Boats
This is another great way to enjoy those large zucchini's in the garden.
Summer Vegetable Pasta Soup
I am addicted to this soup. It is very rich and complex, with the different types of tomatoes, and all the colorful vegetables.
Summer Vegetables with Garlic Scrapes and Roasted Tomato Sauce
This is a very colorful and healthy dish.
Trombocino Squash with Tomatoes
This is a very simple dish what brings out the flavors of the heirloom squash and tomatoes.
Tuscan-Style Vegetable Soup
A delicious soup using delicious and healthy vegetables.
Vegetable Pizza with Potato Crust
A wonderful light meal. Great way to use the fresh produce from your garden or from your local Farmer's Market.
Zucchini Bread
What to do with all those zucchini squash in your garden – make zucchini bread of course!
Zucchini Corn Clam Chowder
Classic clam chowder remade with fresh summer corn and zucchini.
Zucchini Frittata with Herbs and Goat Cheese
This is a very colorful and tasty frittata.  Any leftovers keep well and can be gently reheated and served the next day.
Zucchini Noodles or Ribbons
This is also a very healthy dish, and is perfect for a hot summer evening.
Zucchini-Parmesan Supreme
This is one of those dishes that I created at the last moment with what was in the garden.  It is definitely a keeper!
Zucchini Pizza Crust with Fresh Herbs
This Zucchini Crust Pizza with Fresh Herbs recipe was an unexpected surprise!  It works perfectly and is very tasty.
Zucchini Salad with Shaved Parmesan
This is a "must make salad" during zucchini season.
Zucchini-Walnut Lasagna
The walnuts takes this lasagna to another level!
Zucchini Cranberry Bread with Pecans
Here is a quick bread to make now and then freeze for later use.
Zucchini, Eggplant, and Green Beans with Tomatoes
What a delightful and healthy dish this is, with a bit of Turkish flair, very colorful, and a good way to use the bounty from your garden.
Comments and Reviews